Founded in 1948, the Honda Motor Company quickly made its name as the world's most successful motorcycle manufacturer and started producing cars in 1962.
Things really started to take off for Honda as an automobile manufacturer in the 1970s when they launched of the Civic and Accord and they become one of the most popular car manufacturers in the USA in the '80s. While on the racetrack Honda Engines completely dominated Formula 1.
But it's the sheer bravery to do things their own way and sometimes produce cars that sit between genius and insanity, that is what we love about Honda.
As part of our Best of Marques blog series, Carphile.co.uk select five of our top 5 classic Honda cars from the Japanese legend, from sports cars to hot-hatches and hybrids.
The Future Classic – Honda S2000
Launched to mark the company's 50th anniversary the S2000 roadster enjoyed a decade of success between 1999 and 2009. The front mid-engined rear-wheel-drive sports car is powered by a 1,997cc inline 4-cylinder DOHC-VTEC engine.  If that sounds complicated well at the time Honda claimed it the world's "highest performance 2.0 litre 4-cylinder normally aspirated engine".  It produced 237bhp and revved to nearly 9,000rpm, so they probably had a good point.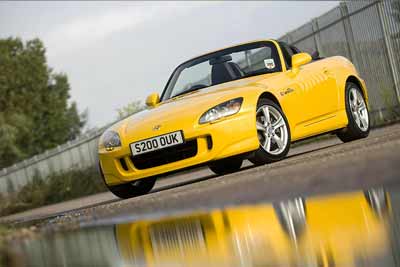 The S2000 was quick, despatching the 0-60 dash in just 6 seconds and going on to a 150mph top speed but it was also relatively expensive compared to the competition and that high-revving engine, although a technical marvel, wasn't everyones cup of tea.
As a future classic though the S2000 sports car has all the credentials. Selling in relatively small numbers in the UK (around 500 a year), with sports car good looks that still turn heads 15 years on.  Best of all though, prices start from around £5000 right now (but you'll pay more than double that for the very best).  The Honda S2000 has future classic written all over it.
Buy one while you can – Honda Integra Type R
Now let's be honest, there was little to really excite car enthusiasts about the standard Honda Integra (DC2) launched back in 1993… but in Type R guise, oh boy was it a different story.
'R' in Honda-speak, stands for Racing and the Integra was the first 'official' car in the UK to wear this coveted badge.  "Racing car for the road" is over-used these days but with the DC2 Type R it wasn't far off the mark.  Honda engineers got serious in stripping down the weight.  Binning most of the sound insulation, fitting thinner windscreen glass, even deleting the spare wheel cover.  Out went the standard seats, replaced with bright red Recaro sports seats (with holes for a racing harness).
The real witchcraft happened under the bonnet though.  The DC2 Type R's 1.8 litre 4-cylinder engine revved to 9,000rpm and produced 187bhp.  That was 104bhp per litre, one of the highest ever normally aspirated production car outputs back in 1998.  Which leads to a quick pub fact for Type R fans, the inlet ports were polished, which limited production to just 25 units a day.  Few car manufacturers would commit to that uncompromising attention to detail.  You've got to love that about Honda.
The real proof was how the car performed on the road.  0-60 came up in 6.2 seconds, with a top speed of 143mph, while the lightweight bodyshell coupled with uprated suspension tweaks meant the Integra DC2 handled as well as it went.  Production ended in 2001, but it's still regarded as one of the finest-handling front wheel drive cars of all time.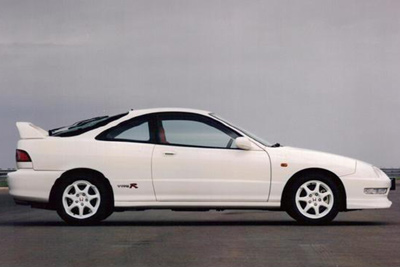 There are 2 types of DC2 Integra Type R's out there, official and grey imports.  Numbers of official UK Integra R's were limited and over the years many have been modified.  Prices start at around £5,000 for an early 1998 model, going up to over £7,000 for later editions but prices are rising, so if you find a clean, unmodified, UK Honda Integra DC2 Type R, buy one while you can.
The Superstar – Honda NSX
How could any top 5 classic Honda cars list not include the original NSX?  The New, Sportscar, and experimental, or NSX, was Honda's first super car proved to be all those things when it was first released in 1990.
Built at a time when Honda engines completely dominated Formula 1.  Honda Engineers, brimming with confidence, spent six years developing their vision of a truly modern super car that really did re-write the super car rulebook.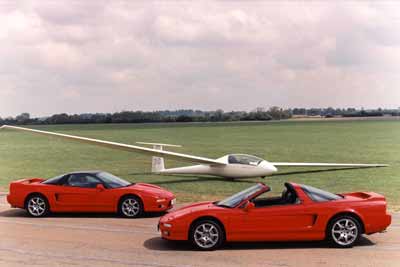 The design started out as a prototype designed by Pininfarina, the HP-X, the wedge shape allegedly taking it's inspiration from the Ferrari 308.  But that wedge was formed in aluminium, around a monocoque crafted from the same weight-saving material.  The NSX was the first production car built around an Aluminium Monocoque and as a result it was lighter, stronger and more rigid.  This allowed the suspension to be more supple, so it was comfortable and be fitted with luxuries like ABS and electric windows.
We could write for days about this car but there isn't space so we'll have to gloss over the fact that racing legend Ayrton Senna famously helped fine-tune the NSX's handling (and took his work home, he owned two) or that the 3.0 litre aluminium V6, had 4 valves per cylinder, variable valve timing……
Honda's superstar remained in production for nearly 15 years (1990-2005).  It's legacy, super car performance, while being as reliable and easy to drive as a Civic, really did shake the super car establishment to its core.  Super car design hasn't been the same since and with the release of the new, petrol-electric, NSX later this year, who would bet on them doing it again?
The game changer – Honda Insight
Although the Toyota Prius has really stolen most of the "hybrid" limelight, Honda's take on the hybrid was arguably braver when it first appeared back in 2000.
Unlike the original Prius, this was no four-door saloon but a two-seater.  The cars light and aerodynamic, aluminium bodywork weighed less than half compared to a contemporary Civic and cut through the air with a slippery 0.25cd.  All this helped when it came to powering the car as underneath lurked a 1.0 litre 3 cylinder engine and a 10kw electric motor, together they produced just 66bhp.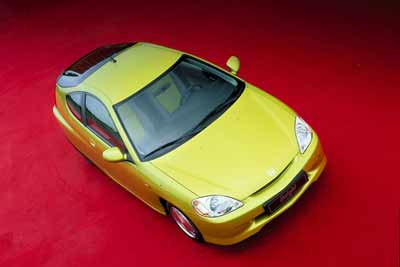 This might not sound much but where the Insight produced really big numbers was in fuel economy.  83mpg (combined) and 80 g/km.  Still unbeaten by a petrol car in the UK 15 years later.
While Honda went on to release a more conventional Prius-rivalling Insight Mk2 in 2010, it's the original car with it's simple but ingenious approach to fuel economy that we love for it's bravery and game changing pursuit of fuel economy.
The legend – Honda S800
Honda had only been producing cars for four years when the tiny S800 sports car was released in 1966 but this car already had the hallmarks of great Honda cars – technical innovation and the bravado of a company unafraid to do things differently.
Like the S600 sports car that came before it, Honda's motorcycle roots influenced this fun little sports car with it's 791cc straight-4 engine that amazingly had would rev up to it's red-line at 11,500rpm.
Available in both coupe and roadster form, when the S800 became available in Britain in 1967 it was cheaper than both the Mini Cooper and the Triumph Spitfire. Unfortunately, the high-revving engine couldn't pass strict US-emissions laws and was barred from sale in the USA.  With this, the last S800 was made in 1970 after only 11,536 had rolled off the production line and Honda turned to concentrate on more conventional cars for much of the seventies and eighties.  It would be 30 years until Honda replaced the S800, with their S2000 sports car for the new millenium.
Do you agree with our top 5 Honda cars? Which five Honda classics would you choose? Please let us know by commenting below.