Jaguar cars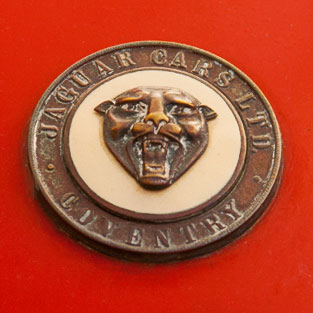 For many years Jaguar cars were led by design, ambition and good business sense.  Their range of sophisticated cars were stylish, fast and made the competition look over-priced. On the track, Jaguar racing cars dominated prestigious motor sport events in the hands of the world's best drivers.  Sales grew and it seemed they could do no wrong.
Today, with likes of Mercedes-Benz and BMW, they still sit under that warm-hallowed glow of being a 'prestige' car manufacturer.  However, for a generation, Jaguar's glow was been more ember than fire, something they are rapidly clawing back today.
Jaguar cars, the early years
The origins of Jaguar cars started in 1922 when Sir William Lyons and William Walmsley started building motorcycle sidecars in Blackpool under the name of the Swallow Sidecar company.
Demand for the company's products quickly grew and by 1927 the company had expanded beyond sidecars into coachbuilding and designing car bodies.  The first Swallow cars were re-bodied Austin 7's, available as an open-top 2 seater for £175 or coupe for £185.
Two of William Lyons qualities really drove this fledgling company forward in these early years.  Although untrained, he had a natural eye for design and would go on to design most of Jaguar's cars for over 40 years.  He also had terrific ambition and business sense.  Swallow Cars moved from Blackpool to Coventry in 1928 to expand and meet production demand.  In 1931 they became SS cars and manufactured 800 cars.  When War declared in 1939 and production halted, SS Cars had become SS-Jaguar, were manufacturing over 5,000 cars a year.  This included the SS100, a desirable two-seater sports car, that was capable of over 100mph and made the competition look a little dull.
The Jaguar XK120
After WW2, SS-Jaguar dropped the SS letters and became Jaguar.  They quickly resumed the upward trajectory that had been put on hold in 1939.  At the 1948 Earl's Court motor show in London, they pulled the wraps off a beautiful new sports car, the XK120.  Powered by a new twin-cam 3.4 litre, six-cylinder 'XK' engine, which had been designed in secret during the war.
With a top speed of over 120mph, the XK120, was the world's fastest production car and the XK engine that powered it would go on to power Jaguar's cars for over 40 years.  The XK120 itself one of the defining sports cars of the 1950s, a classic before it even went out of production.
Jaguar cars in racing and motorsport
This upward trajectory continued into the 1950's and sixties.  On the racetrack Jaguar dominated sports car racing, winning the Le-Mans 24 hour race in 1951 and 1953 with the C-Type and then in 1955, 1956 and 1957 with the D-Type.  In saloon car racing Jaguar Mk VII's and Mk II's took saloon car victories in the United Kingdom, United States, Europe and Australia.  In rallying, Ian Appleyard's XK120 (NUB 120) won the Alpine and RAC rallies twice and the Tulip rally once (co-driven by Sir William Lyons' daughter Pat) and Ronnie Adams took victory in the 1957 Monte Carlo Rally in his Jaguar Mk VII.   William Lyons (knighted in 1955) didn't believe in competing unless your cars had a reasonable chance of winning and until the mid-sixties, Jaguar's were the cars everyone else wanted to beat.
The rise of empires
Success on the racetrack was matched in the showrooms and boardrooms.  In 1959 Jaguar released the Mk II saloon, which was popular at home but also in the United States and annual sales rose above 20,000 for the first time.  Then in 1961 they released the E-Type. This sports car was capable of nearly 150mph, drove like a racing car (it had been developed from the still-born replacement for the D-Type racing car) and had looks that has sent everyone crazy ever since.  Best of all it cost just £2098.  Sales massively exceeded expectations and Jaguar were soon selling over 5,000 E-Types a year.  In this period Jaguar expanded rapidly – buying Daimler, Meadows, Guy and Coventry-Climax. They were starting to build an empire and, although no one knew it yet, empire-building would start to suck the life from the warm glow they had enjoyed for so long.
In 1966 Jaguar joined BMC to become BMH.  Two years later, under the British governments insistence, BMH joined Leyland to form British Leyland.  Under British Leyland, Jaguar priorities were diluted, sharing the hearth with marques as different as MG, Austin, Triumph, Land Rover, Wolseley and Riley made it difficult to plan for the future.  The seventies weren't particularly kind on Jaguar either, with the worldwide fuel crisis and industrial disputes at home.
Jaguar's road to the 21st century
It was 1984, when Jaguar was floated on the stock exchange, that they re-gained their independence.  However, it quickly became apparent that Jaguar would need deeper pockets if it was going to be able to survive and finance the development of future model ranges.  Ford bought Jaguar in 1989, a move that eventually brought them together with a old British Leyland second-cousin Land Rover.  In 2008 Ford sold Jaguar and LandRover to Indian multi-national conglomerate Tata, a move that created todays Jaguar Land Rover partnership.
Since 2008, all signs are that the warm glow is finally back at Jaguar.  They have released new XF and XJ saloons and, after a period of over 40 years, they released a new sports car the F-Type in 2013.  In 2015 they will launch their new BMW 3-series rival, the XE.  All share a modern cutting-edge design language you feel Sir William Lyons would greatly approve of.  Sales are on the rise and dynamically they can compete against the might of the 'premium car' competition.
Click the images below to find out more