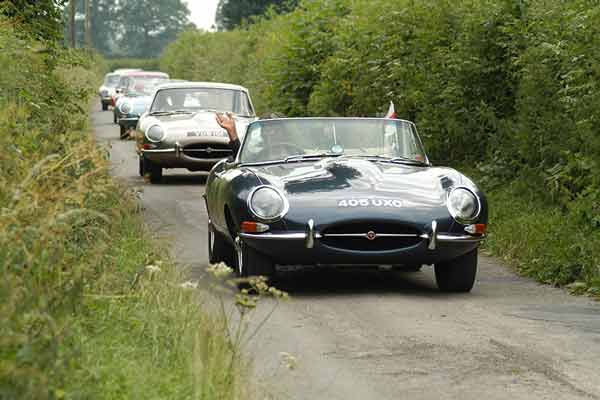 The Jaguar E-type Club is inviting Jaguar E-type owners from around the world to join its charity drive around the coastal roads of Great Britain in September.
The tour starts near Goodwood on the 12th September, the day after the famous Revival meeting and runs until the 29th of September. Consisting of 18 one-day stages with an average daily mileage of 180 miles (290 km). Dates are September 12 – 29, 2016.
The event is being arranged to raise money for Prostate Cancer UK, the aim is to involve as many E-types Jaguars as possible, including cars from overseas, in a very different, and possibly unique, driving event.
Philip Porter, author of 30 motoring books and founder of the Jaguar E-type Club, has just recovered from prostate cancer. 'I was lucky. I had the tests, caught it early, had the operation and recently had the all-clear. Our aim with this event is to not only raise funds, working with Prostate Cancer UK, but also awareness. With the support of E-type owners, this national event which literally goes to every corner of the country, can do just that.
"To create a great spectacle for the public and the media, we need as many E-types to participate in a stage, or stages, as possible.
"Our E-types can play a major role in the important fight against this indiscriminate killer cancer. We can also have a lot of fun and enjoy an amazing drive through many of the most stunning parts of Great Britain while helping a very good cause.
All E-type Jaguars of every model, colour, condition and year are welcome.
Porter will be driving his red E-type Roadster that appeared in the iconic film, The Italian Job. 848 CRY has been featured on television on Top Gear and The Car's The Star, and in many publications.
The Jaguar E-type Club was formed in 2004, the Club has members in over 50 countries and organises events worldwide. Despite the recent rise in Jaguar E Type values, the club are keen on members getting out and using their cars not on polishing.
Prostate cancer is the most common cancer in men. More than 10,000 men die every year from this male-only disease, and 250,000 men are living with prostate cancer in the UK. Prostate Cancer UK is a UK based, charity is raising funds to find a cure to get men in all areas of the country the early detection, effective diagnosis and better treatments that will beat the disease.
Find out more about the event in the events calendar.