One of Great Britain's most iconic cars is, without a doubt, the Jaguar E-Type. This car was coveted internationally after its original introduction at the 1961 Geneva Auto Salon. With its undeniably sexy curves, quality build and luxury feel, the E-Type has been synonymous with style and class for over half a century.
If you're toying with the idea of buying a Jaguar E-Type, make sure you know the model you want. E-Types can vary significantly, from the earliest 1961 concours restored E-Type to a fully upgraded and modernised Series 3 Grand-Tourer. Each model has its own merits, so it's important to know which is the best for you before you start viewing cars (start here – Jaguar E-Type history).
Whether you're looking to buy an E-Type for a restoration project or as an investment, as with any classic car, there are several things you should look out for before you make the purchase. Kent E-type specialists, E-Type UK, share 5 things to look out for when buying a Jaguar E-Type.
1. Authenticity
When looking under the bonnet of any E-Type, it's important to make sure, that all of the parts are not only in good working order, but that they're authentic. This shouldn't be a problem, because most E-Type spare parts are still readily available and affordable. So it should be easier to find and fit authentic parts than for some classic cars.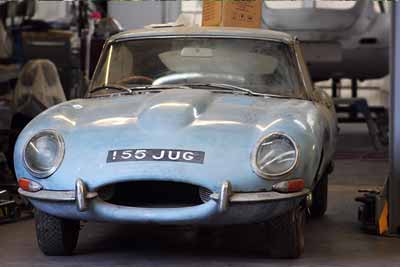 Make sure the car has fully matching numbers, meaning the numbers on the gearbox, engine block, cylinder head, body and chassis are all the same numbers as on the chassis plate and heritage certificate. If they're not, this can significantly reduce the value of the car as they're not the original components that came with the car.
2. Check for Rust
As all classic car fans know, rust is the kryptonite of classic cars. Cars that have been in the UK for 50+ years are prone to rust due to the damp climate and rust can wreak havoc on an E-Type. While a barn find has a certain romantic-allure, this exposure leaves cars vulnerable to rust. It's best to get the car on a ramp so you can carry out a thorough check.
A few key places to check a Jaguar E-Type for rust are:
Sills
Floor pans – look for thick underseal, blistering or out of place lines – this can be used to hide rust or bad repairs
Wheel arches
Suspension arm mounts
3. Ask About Previous Restoration Projects
If you're buying an E-Type that has undergone a restoration, it's important to take into account the quality of the restoration. It is a loose, subjective term. One man's restoration, is to another recommissioning. E-Types can be very expensive to restore and hobbyist restorations are often not of the same standard compared to those of a specialist Jaguar E-Type restorer.
When looking over a restored car, start on the outside and keep an eye out for:
Inconsistent bodywork
Evidence of filler
Poorly fitting panels
Low-quality paint job
Moving inside, examine the interior. The care taken in restoring upholstery and instruments can be indicative of the quality of work that's been conducted under the bonnet.
4. Test Drive
It's foolish to consider purchasing any car, classic or otherwise, unless you've taken it for a test drive. Allow the E-Type to warm up before you take it out for a spin. Before the drive, pay close attention and listen for any strange clunking or rattling sounds from the engine, as in some cases, the car could need a full engine rebuild. As well as the engine, check the electrics and gearbox are in working order, as these can be complicated and expensive problems to fix.
When you've got the car out on the road, continue to listen for any unusual sounds and pay close attention to the handling, steering and braking. A properly restored E-Type should run smooth and make an attractive, powerful sound.
5. Get a Second Opinion
If you're a member of a Jaguar car club, it's worth enlisting the advice of a fellow Jag-lover who knows their way around an E-Type. Ask them for their opinion and ideally bring them along to view the car. A second pair of eyes is always helpful, as they may notice things you don't and think to ask other questions.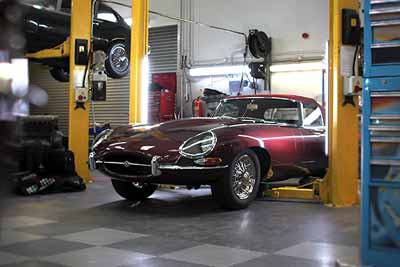 It's also recommended to ask a Jaguar E-Type specialist to inspect the car before committing to the purchase. Of course, this does come with a fee, but it could save you literally (tens of) thousands of pounds, compared with buying a car that hasn't been properly cared for previously. E-Types are complex pieces of machinery with many features and working parts, an E-Type specialist can help spot problems you may miss.
Thanks to E-Type UK for these tips. E-Type UK specialises in the sale and restoration of Jaguar E-Types. Since its launch in 2008, E-Type UK has established itself as one of the leading E-Type restoration specialists in the UK.
SaveSave
SaveSave
SaveSave
SaveSave
SaveSave