Wilton Classic Supercar 2014
10/08/2014 @ 9:00 am

-

5:00 pm

See text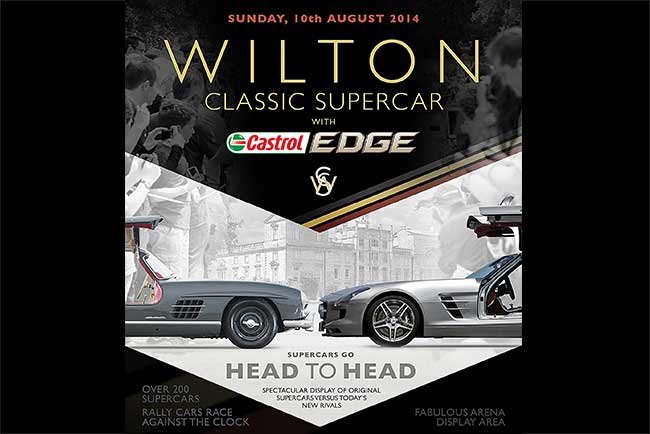 Wilton Classic Supercar 2014 has the relaxed feel of a garden party for the family, whilst surrounded by some of the world's most beautiful and exclusive cars.
New to Wilton Classic Supercar this year is:
Rally Stage sponsored by Castrol EDGE
Iconic Group B rally cars perform high speed runs along the valley floor. Featuring superstar Group B Rally Cars like the Metro 6R4, Lancia Delta S4 and Audi Quattro Sport. Race2Recovery will be on hand between the Group B rally runs with their amazing Dakar Bowler Wildcat and young rally star Elfyn Evans will be taking his Castrol Fiesta R200 to the limit on track, showing the Wilton crowds just what modern rally cars are capable of.
Head to head for 2014
Another 2014 first that car fans won't want to miss is the "head to head" theme. Classic icons meet their modern day counterparts. Think Mercedes 300 SL Gullwing vs the SLS, BMW M1 vs i8, Lamborghini Miura vs Huracan…
Bonhams Display
Bonhams will display a number of highly exclusive cars, some of which will be for sale in their auction later this summer Other key attractions include a parade of Supercars (over 200 cars), the Hypercar Paddock, the Classic Car Paddock sponsored by EFG and the Inch Perfect motorcycle display team. [new_royalslider id="37″] Some of the cars you will see on the day are – Aston Martin Bertone Jet 2+2 (the only one in the world) – McLaren P1 – 1962 Tour De France winning Ferrari 250 SWB "SEFAC Hot Rod" – Ferrari 250 SWB road car – 1957 Ferrari 250 Testarossa – 1986 Ferrari 288 GTO – BMW 507 – Lancia Stratos CHASSIS 001 – Bugatti EB 110 – McLaren F1 XP5 (world record setting car) – Maserati Ghibli 4.9 SS Ghibli Spyder – Ferrari 275 |GTB/2 Long Nose 6 Carb] – Ferrari 365 |GTB/4 'Daytona' Plexiglass] – 1956 Corvette – Porsche 959 – BMW i8 – Ferrari 246 GTS Dino – 1955 Mercedes 300 SL Gullwing – Lamborghini Miura – Bugatti Veyron – At least 12 Jaguar XJ220s And….over 100 Maseratis as part of their 2014 Centenary display celebration….Phew! Tickets now on sale Tickets are now on sale, only £18 for adults, £8 for children. Under 5's go free. Buy now from the Wilton Classic Supercars website to avoid disappointment!