A lot depended on the Bugatti Veyron when it was released in 2005, after all it's no easy task re-inventing one of the most exclusive luxury car marques for the 21st Century
The Bugatti Veyron hyper car was named after the legendary Bugatti development engineer, test driver and racing driver, Pierre Veyron, who with co-driver Jean-Pierre Wimille, won the 1939 24 hours of Le Mans.  The first Bugatti model after Volkswagen acquired the rights to the Bugatti marque in 1998.
Bugatti Veyron: origins
Initially presented as a concept at the 1999 Tokyo Motor Show as the Bugatti Veyron EB 18.4 (due to the 3-bank, 18 cylinder, W18 engine).  The first cars (Veyron EB 16.4) went into production in 2005, hand-built at an all-new factory near the former Bugatti headquarters at Château St Jean, in Molsheim, France .
Ferdinand Piech, (Then) VW boss, set four goals for the Veyron's designers – a top speed of at least 248 mph, with 986bhp minimum, covering the 0-62 mph dash in under three seconds and then, finally, be civilised enough to drive to the opera.
Putting it lightly, designing a car with more than twice the power of a Ferrari F40, while making it as docile as a Golf, is no easy task (you suspect, Mr Piech, is not someone who takes disappointment from employees lightly).  Of course, the designers didn't fail, the Veyron 16.4 can cover the sprint from 0-62mph in under 2.5 seconds and boasts a top speed of 253.81 mph and today the Bugatti Veyron Super Sport is listed in the Guinness Book of World Records as the fastest street-legal production car on the planet, boasting a top speed of 267.856 mph.  Incredible, for a road car wearing number plates.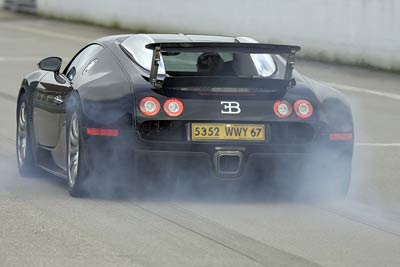 Incredible though they are, let's look beyond the performance figures and examine why this car represents a genuine 21st century technical masterpiece.
Technology and performance
At the heart of the Veyron is a mid-mounted, 16-cylinder, 8.0 litre, quad-turbo engine, producing 987.4bhp.  This power is transmitted to the road through a seven-speed DSG gearbox and permanent four wheel drive.
Bugatti Veyron technical specifications (all models)
Despite the ability to cover ground at more than 4 miles a minute, the Veyron is no stripped-out racing car.  Keeping with the pampering brief, the cabin is constructed from the finest materials.  With luxuries such as climate control, leather and a rear-view monitor (making the car easier and less intimidating to reverse) all contributing to the Veyron's 1,888 kg kerb weight.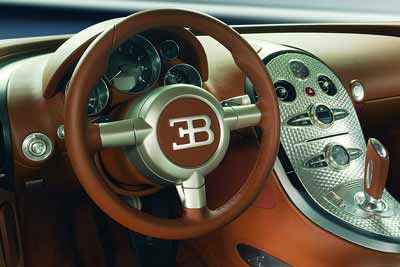 All things being relative though, with nearly 1000bhp on tap, the Veyron still boasts a power-to-weight ratio of 523 bhp per ton.
Models and Special Editions
The Veyron 16.4 two-seat coupe was joined in 2008 buy the open top Veyron Grand Sport. A more powerful Super Sport arrived in 2010, with the last model, the Grand Sport Vitesse, revealed in 2012.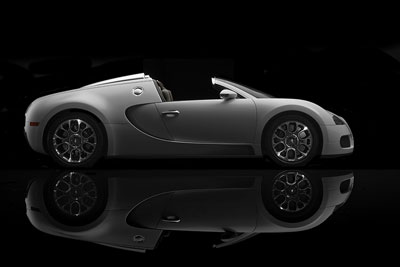 The Super Sport went on sale in October 2010, after Bugatti engineers increased the power to 1181bhp and set a new production car landspeed world record of 268 mph at Volkswagen's, Ehra-Lessien, test track.
Over the cars 10 year production run Bugatti released many special editions (unusual for a hypercar but in this price bracket, the super-wealthy buyers really are king and crave the unique.  Starting with the Veyron 'Pur Sang' of 2007, a five car run which featured highly-glossed bronze wheels, with a clear body finish revealing the silver oxide and carbon fibre bodywork. Culminating with the one-off final 'La Finale' in 2015 (see below).
Bugatti Veyron production ends
Bugatti sold 450 Veyron between 2005 and 2015 (300 16/4 coupe's and 150 Grand Sport convertibles).
Bugatti showed Veyron number 450, a 1181bhp Grand Sport Vitesse 'La Finale', at the 2015 Geneva motor show.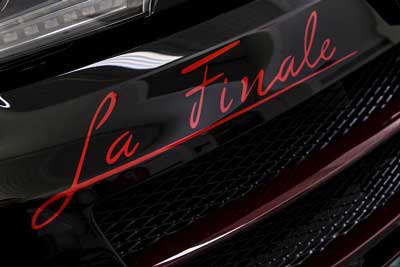 Wolfgang Dürheimer, President of Bugatti Automobiles described the Veyron as "not just a masterpiece of modern automobile design, it is more an automotive piece of art."
In 2014 Bugatti announced a replacement for the Veyron, a new Bugatti model will be released in 2016 (rumour is it will be even faster).