Fans of three-wheelers have something to cheer about with the release of a new book by award-winning author Chris Rees.
Three-Wheelers A-Z: the Definitive Encyclopaedia of Three-Wheeled Vehicles From 1940 to Date is packed with unusual, surprising and fascinating machinery, including trikes, bubble cars, microcars, kit cars, high-performance three-wheelers, invalid carriages, prototypes, touring choppers, design exercises, tuk tuks and even flying cars and amphibious vehicles.
Author Chris Rees says: "Three-wheelers have formed a vibrant part of transport history right from the very origins of motoring in 1885, but they are much-neglected in motoring today.  This new A to Z encyclopedia is a real romp through a world that's been under-reported to date.
"Trikes constantly surprise me with their ingenuity. Some of the world's strangest cars are in the book – like the Thrustcycle has three wheels all in a line with a gyroscope to keep the car upright at a standstill or there's the Inter, whose front wheels folded inwards to make it narrow enough to fit through a doorway and the Vigillante was built as a 200mph highway pursuit vehicle for the California police".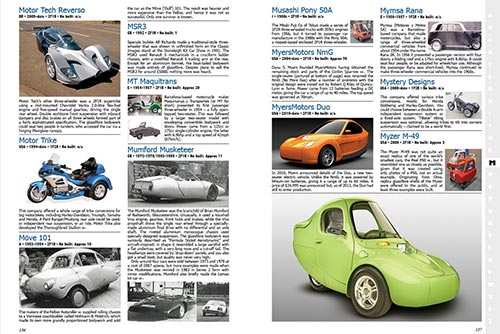 Until the end of March 2014, the publisher is running a special offer. Books purchased directly from Quiller Print come with free postage and packing. The book will be signed by the author, and can also be personally dedicated.
Three-Wheelers A-Z: the Definitive Encyclopedia of Three-Wheeled Vehicles From 1940 to Date (ISBN 978-0-9926651-0-4) by Chris Rees (Quiller Print).