Subaru tries to break Isle on Man TT lap record in new WRX STI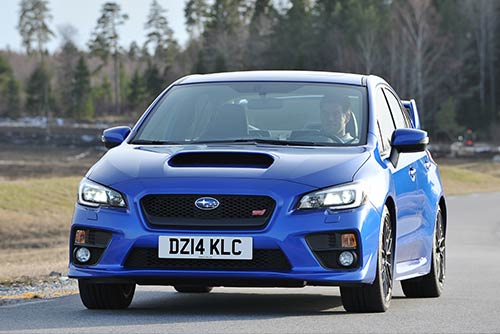 Subaru this month will once again attempt to break the four-wheeled lap record on the world-famous Isle of Man TT course, using the new 2015 WRX STI performance saloon, driven by British rally champion Mark Higgins.
The current record stands at 19 minutes and 56.7 seconds.  Set in 2011 by Higgins in the previous-generation Subaru WRX STI,  where he achieved an average speed of 115.36mph around the famous Mountain circuit.
As with the previous record-breaking run, the new WRX STI is a standard Subaru production car (US specification), equipped with a 300ps 2.5-litre horizontally-opposed turbocharged Boxer engine, unmodified brake callipers and road-legal tyres. The springs and dampers have been adjusted slightly to minimise potential damage when the car encounters the TT's many high speed bumps and jumps.
Subaru will complete three timed runs under closed road conditions on Saturday 31 May, Monday 2 June and Wednesday 4 June.
In his previous record attempt on the course, Higgins created one of the most memorable race videos when he had a self-described 'moment' at the bottom of Bray Hill at 150mph –clips of the attempt have received almost 10 million views online since 2011, see it here.
Higgins commented: "Setting the record was totally exhilarating and one of the highlights of my career – Bray Hill certainly added to the thrill! As a Manxman, I love the TT Races and I have a huge amount of respect for the TT riders and what they do. It will be a real honour to attempt a new fastest car lap."
Subaru of America, Inc. returns as a partner, renewing its sponsorship of the Isle of Man TT event again this year, .
The all-new Subaru WRX STI goes on sale in the UK this month.