Over seventy classic cars for sale in Coys True Greats sale
More than seventy classic and racing cars going under the hammer, including Niki Lauda's first F1 car, at Coys  True Greats end of season sale at the Royal Horticultural Halls in London on December 2nd.
Coys True Greats sale marks one of the closing highlights in what has been an exceptional year for classic car auctions and sale prices.  Carphile take a look at some of the star cars on offer at the sale on December 2nd.
Chris Routledge, Managing Partner at Coys, said: "We have an amazing number of interesting cars going under the hammer. It will be a truly unique opportunity for any serious collector to acquire some of the most spectacular cars available."
Coys True Greats – Niki Lauda's first F1 Car
Three times Formula 1 World Champion Niki Lauda's first F1 racing car is one of the stars of the sale. This iconic March Grand Prix racing car was built in 1971 for Ronnie Peterson, who raced with it at Kylami, Monaco and the (memorable) Zandvort race. The car then became his spare after he took over the new 711-6 chassis at the German Grand Prix that year. At this time the car became the first for newcomer Niki Lauda when he started at Peterson's team as the second driver in 1971. The hammer is estimated to fall between £450,000 and £500,000.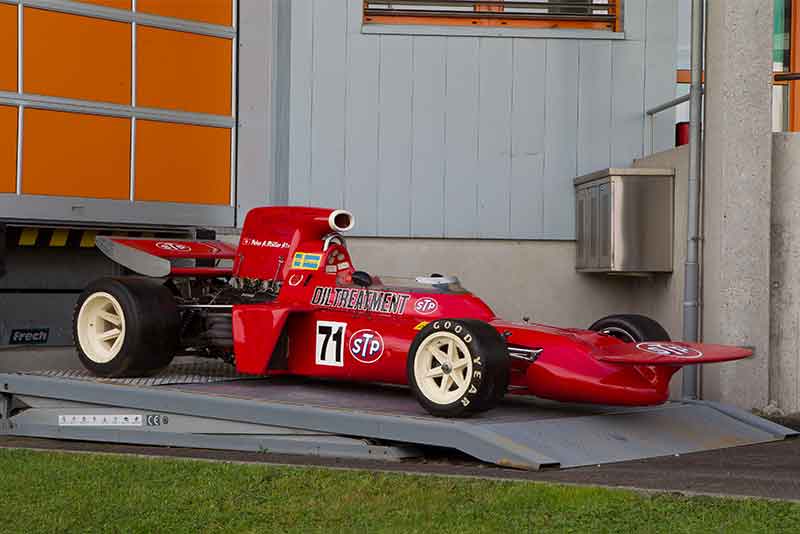 Coys True Greats sale – Porsche 904/6 Carrera GTP Works Prototype
The sale also features a 1964 Works Prototype Porsche 904/6 Carrera GTP, possibly one of the finest and most successful Porsche racing cars ever constructed by the famous German marque. The car kick started a program of racing cars, that would eventually result in the development of the legendary 917.
The model also holds a unique spot in the Porsche history as the last dual-purpose sports car the firm built. The car comes with a file containing letters from Porsche Works confirming 904-108`s works prototype history and pictures of its participation at the 1965 Targa Florio.  A world-class car for a world-class collection. Estimated at between £1,100,000 and £1,300,000.
1936 Alvis Speed 20 Vanden Plas Tourer
A 1936 Alvis Speed 20 Vanden Plas Tourer, ex Brooklands winning car and one of only six produced will be on sale, estimated at £110,000 to £130,000.
This matching numbers car, with extensive pre and post war race history, is offered in its original factory specification. Finished in silver beige over black with a complementary and original beige interior, it is supplied with full VSCC and FIVA papers, which enable it to compete in many events worldwide. It is estimated at £90,000 to £110,000.
Other cars for sale in the Coys auction
The auction will also features a 1964 Ferrari 275 GTB short nose in Giallo Fly, estimated at between £1,100,000 and £1,400,000.  A 1955 Mercedes-Benz 300SL Gullwing in original specification with original engine, estimated at £950,000 to £1,100,000. A 1970 Renault Alpine A 110 Factory prototype "Group 4" with FIA papers, estimated at £190,000 to £ 220,000. A 1934 Bugatti Type 57 Series I Ventoux, estimated at £250,000 to £280,000.  A beautiful and original 1948 MG TC, estimated at £20,000 to £25,000 and a 1973 Porsche 911 Carrera 2.7 RS, estimated at £350,000 to 450,000.
Attending Coys True Greats sale 2014
The auction itself takes place on Tuesday 2nd December 2014 at 7pm at the Royal Horticultural Society (Royal Horticultural Society, Lindley Hall, Vincent Square, Westminster, London, SW1P 2PE).  Viewing is from 12pm to 8pm on Monday 1st December and from 10am to the start of the auction on  Tuesday 2nd December 2014.
Find out more at the Coys website