Rare Lamborghini Countach 400S for sale at Race Retro 2016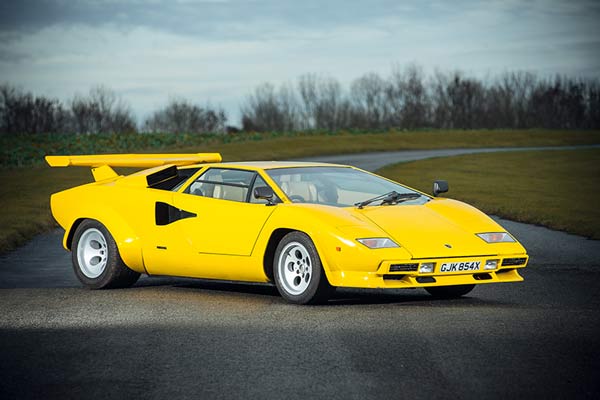 An incredibly rare Lamborghini Countach 400S for sale at Silverstone Auctions Race Retro classic car sale
Many Lamborghini cars have been named after legendary fighting bulls, however not with the Countach which (politely) translates as just 'Wow'.
Which seems to perfectly suit this striking 1981 Pearl Yellow Lamborghini Countach 400S for sale in Silverstone Auctions Race Retro sale in February.
Rare Lamborghini Countach 400S for sale
The Lamborghini Countach 400S was introduced in 1978, remaining in production until 1982 when it was replaced by the larger-engined Countach 500S.
This original 1981 Lamborghini 400S is a right-hand drive example, one of just seven cars produced (out of a total production of 237 Countach 400S).
'GJK 854X' was first registered in September 1982.  Its first UK owner was Tim Dutton Wooley (of Dutton Cars) and sported that optional wing (the height of supercar cool back in the early eighties).
The car was sold five years later in April 1987 to an Lamborghini enthusiast and the car features heavily in Chris Bennett's "Lamborghini Countach" book published in 1993.
If any super car can pull-off a flamboyant colour then it's a Lamborghini and this Countach's Lamborghini Pearl Yellow paint and Oatmeal Leather with Black Suede dash top interior is described as being in good condition.
This Lamborghini 400S comes with a V5C, an MoT until June 2016, drivers handbook and the books by Chris Bennett and David Hodges and a comprehensive history file with nearly all past MoTs present and dozens of invoices relating to service history and maintenance work over the past 33 years..  Having covered just 38,221 miles (61,155 km) and according to MoTs, only 1800 of these miles (2,880km) have been with the current vendor, who has driven it lightly over the past few years.  This rare Lamborghini 400S for sale at a price estimated between £200,000 and £250,000 when the hammer falls at Silverstone Auctions Race Retro sale 2016.
Commenting on the car Nick Whale, managing director of Silverstone Auctions, said: "The Lamborghini Countach is truly an iconic super car…a low-mileage 1981 LP400S-Series III has recently changed hands in the International market for a substantial sum, and other LP400S' appear to be changing hands for figures well in excess of our guide price here."
To find out more the car visit Silverstone Auctions website.
Silverstone Auctions Race Retro Sale 2016
The Silverstone Auctions Race Retro Sale is taking place at Stoneleigh Park, Warwickshire, on the 26th-28th February 2016.  To find out more