Porsche 911 Carrera RS 2.7 sold before advertised

A Porsche 911 Carrera RS 2.7 sold recently by Porsche specialist Autofarm proves demand for early 911's is as strong as ever as the two owners from new car sold before publicly advertised.
Strong demand for the Porsche 911 Carrera RS 2.7 meant the car sold for over £500,000 before the Porsche specialist had the opportunity to market it publicly. Carefully stored and not used on the road for the last 24 years and having just been prepared by Autofarm, chassis 0899 provides the chance to experience an RS just as it would have been in 1973.
Originally supplied new to an Italian customer, the left hand drive M472 specification car was driven to the UK in 1983 by its second owner. Used until 1990, then put into storage, it underwent a renovation and engine/gearbox refresh by Autofarm in 2002, returning to its dehumidified chamber last year.
"Demand remains strong and despite not marketing the car publicly or even getting it onto our website, we already had a number of very keen purchasers, eager to acquire a desirable, matching numbers car that we have known for over thirty years" says Autofarm founder Josh Sadler. "Such provenance is rare, especially given that many were driven hard in competition and have been messed around with." Sadler, revered in Porsche circles for his encyclopaedic knowledge of the RS retains a log of many of the RS cars, charting the history, modifications and owner changes. "We always knew they were special, hence we decided to log them right from when we started Autofarm in 1973, when these cars were new. We couldn't predict the rocketing values however; otherwise I would have put more old racers we had away in our store!"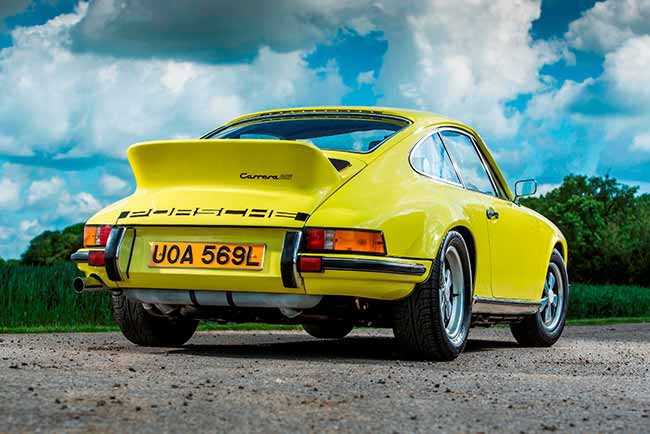 The RS, a pure homologation special, was originally intended to be a run of 500 cars but demand ultimately led to 1590 being produced by Porsche. Typically lighter than the 911S and sporting a ducktail spoiler and fibreglass splitter, it offered 210bhp from its 2687cc engine, delivering 0-60 in around 5.5 seconds.
An original factory specification, Chassis 0899, from the Second Series, was built for the Italian market as a simple base specification Touring with no options. It still has all its original major components including its Fuchs rims with just the addition of a limited slip differential and period pattern door mirrors being the only upgrades fitted in the 79,000 miles it has done.