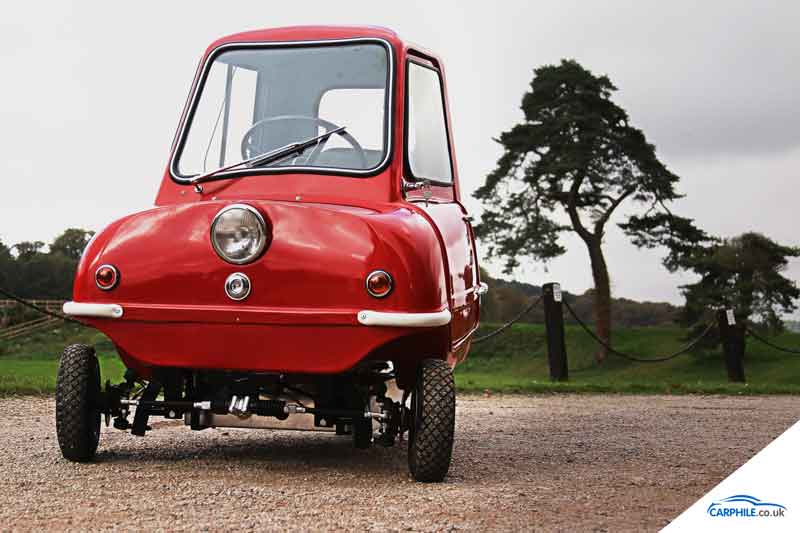 The Peel P50 bubble car was originally launched in 1962 and made in tiny numbers by the Peel Engineering Company on the Isle of Man. Production of the original car ended in 1965 but in 2011 production of Peel cars re-started and the car is once again being manufactured in the UK.
Peel P50 Origins
The P50 was the Brainchild of inventor and Peel Engineering Company founder Cyril Cannell. He envisioned an ultra compact and exceptionally small commuter car capable travelling at 40 mph while comfortably seating one adult carrying a briefcase.
At 54 inches long and just 41 inches wide it has held the Guinness Book of World Records' title for the world's smallest production car for over 50 years.
As a publicity stunt, in 1963, Peel took a P50 to the top of Blackpool Tower, using the standard lift and drove it around the observation balcony.
Peel P50:  The oily bits
In the early sixties, Peel Engineering were specialists in the (then new) art of glass fibre manufacturing. The three-wheeled P50 is made around a glass fibre monocoque, with no chassis.
Powered by a tiny 2-stroke 49cc DKW Zweirad Union engine, that put out 4.5HP, enough to propel the tiny P50 to a (limited) top speed of 40mph. The unit originated from a scooter and drives through a scooter gearbox with 3 forward ratios and no reverse gear (although the new electric P50 now has reverse, for the first time in 52 years!).
As the P50 weighed just 59kg, it was light enough to lift using a carrying handle and park by hand.
At launch the car cost £199. There were few options but you could order your P50 in Daytona White, Dragon Red or Dark Blue.
Two P50 prototypes were made (known as the P55 Saloon Scooter), these were even smaller than the production version and features an opposite, and less-stable, wheel layout with one wheel at the front and two at the back.
Peel P50: Production ends
Production of the original P50 ceased in 1964 with only fifty cars produced. Of these originals only 27 are known to still exist. Today an original P50 is a sought after prize for bubble car collectors around the world. In 2013 an ultra rare 1964 P50 wwas sold by RM Auctions, with the hammer falling on a price of over £80,000 ($120,000).
Peel P50 production for the 21st century
In 2011 Peel Engineering was acquired by car enthusiasts Gary Hillman and Faizal Khan and production of the P50 re-started.  They have since made approximately 50 more P50's (with plenty more on order) and now produce both Petrol and Electric powered versions.
The Peel P50 is classified as a Three Wheel Moped in the UK and fully road legal.