New Wheeler Dealers series preview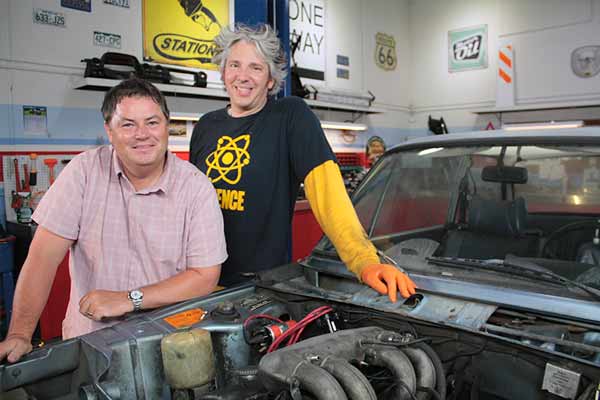 Fans of Wheeler Dealers TV show will be please to know a new series starts Monday 9th May on the Discovery Channel.
This is the 13th season for the incredibly popular restoration show and once again the Wheeler Dealers, car dealer, Mike Brewer, and mechanic, Edd China, give eight more classic cars a new lease of life.
What has changed is that Mike and Edd have left rainy Bracknell behind and set up in a brand new workshop in sunny California.
Edd says: "We may be basking in the LA sunshine but the job in hand remains the same. Our brand spanking new workshop will see the same amount of sweat and tears as the previous ones in Bracknell; It just so happens that we now have the Pacific Coast Highway outside rather than the M25!"
Wheeler Dealers series preview – the cars
The first episode sees Mike and Edd pick a car that was one of the icons of 1980s car culture, a real status symbol a 1987 Mercedes 560SL.
Over the rest of the series there is a mix of with a mix of British, European and American marques.  From the original 'Econobox', a 1977 Honda Civic to the rescue of a neglected and  rusty 1965 Land Rover Series 2a, but there's also the chance to transform Stateside metal as well from turning the GI's favourite, the Hummer (or Humvee) into the ultimate camping accessory and put the burble back into the a 1988 Ford Mustang 5.0.  There's also a classic 1963 Volvo PB544 and the car made famous by Ralph Nader the Chevrolet Corvair.
After 12 series in the Workshop, it seems that Edd is being let out of the workshop (a bit)
Mike said: "Edd will be getting more involved in choosing the type of car we are looking for each week while I'll be taking my turn getting my hands dirty in the workshop."
The cars featured in Wheeler Dealers series 13 cars are:
EPISODE 1 – 1987 MERCEDES 560SL
EPISODE 2 – 1963 VOLVO PV544
EPISODE 3 – 1977 HONDA CIVIC
EPISODE 4 – 1980 CHEVY LUV
EPISODE 5 – 1988 FORD MUSTANG 5.0
EPISODE 6 – 1963 CHEVROLET CORVAIR
EPISODE 7 – 1965 LAND ROVER 2a
EPISODE 8 – 1968 Corvette C3
The brand new season of Wheeler Dealers will have its world premiere in the UK on Discovery Channel, 9pm, Monday 9th May (Sky 520, Virgin 250, BT TV 322, TalkTalk 322)