Put a McLaren 650S on your driveway (with this new App)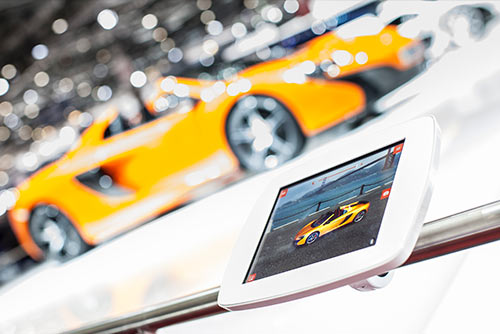 Following their global unveiling of the McLaren 650S Coupé and 650S Spider at the Geneva Motor Show, McLaren Automotive has launch of the McLaren 650S Design Studio for tablets.
The McLaren 650S tablet app lets users to configure a dream specification for the 650S Spider by selecting from the official paint, wheel and exterior carbon fibre options available.
Once the user has chosen the specification options available for the McLaren 650S and is happy with the final look, they can then place the car into any desired location.  The app comes with a number of pre-installed background scenes but it also lets you take or upload a picture of your own and place a McLaren 650S on your own driveway or any other location (see picture – probably the closest one will ever come to appearing on mine!  CP).
The app even lets you adjust lighting and allows for reflections in the car's paintwork accordingly, ensuring the final image looks as realistic as possible.
So whether it is the bright lights of Times Square in New York at night, Monaco's famous marina, Shanghai city centre at dusk, or Clackton on Sea, the McLaren 650S tablet app offers the chance to create the ultimate McLaren 650S Spider in the ultimate location.
Available now for download on both iOS and Android operating systems in the Apple and Android App Stores by searching for 'McLaren 650S'.
Images can then be shared across the various McLaren Automotive official social media channels www.facebook.com/McLarenAutomotive and www.twitter.com/McLarenAuto (@McLarenAuto) – using the hashtag #mymclaren. The best images submitted will then be selected to feature on the official McLaren Automotive website