8,500 mile Lamborghini Countach for sale at Historics auction

1982 Lamborghini Countach with just 8,500 miles from new, set to star at Historics' auction on Saturday, June 7th 2014.
There are supercars… and there's the Lamborghini Countach. To many, the extravagant and eccentric styling of Marcello Gandini re-wrote the rules by which super cars ever since have been measured.
Now, those attending Historics at Brooklands' auction on June 7th, can witness it for themselves as a rare, right-hand drive, ultra-low mileage 1982 Countach LP5000S comes to sale.
Following in the footsteps of the legendary Lamborghini Miura, also penned by Gandini in the Bertone studio, the Countach never fails to leave a lasting impression from any angle, whether static or on the move.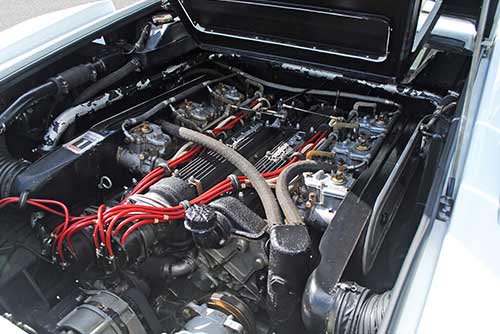 Of a total production of 2,042 models over its 16-year lifespan, from 1974 to 1990, just 321 Lamborghini Countach LP5000S were produced, one of the first Countach models to be fitted with the larger capacity 4.8 litre V12 engine introduced in 1982, mated to the five-speed gearbox.
Like any Countach, this pristine white example, with matching white leather interior, is not for shrinking violets, its famed and eccentric scissor doors still attract attention after 32 years. Although for the past 23 years – two thirds of its life – this Countach has rested in professional dry storage, being awakened only for regular starting, conditioning and scheduled servicing by Portman Lamborghini and Lamborghini London. This culminated in a very thorough major service at HR Owen London, totalling over £4,500,  in the last two months.
Having covered just 13,642km (8,543 miles) from new, this Countach makes a prefect collector car,
This 1982 Lamborghini Countach LP500S is estimated at £110,000 – £145,000 and joins 100+ other classic car and motorcycles at Historics' largest auction of the year at Brooklands Museum, on Saturday June 7th.
For more information and the full consignment list, visit www.historics.co.uk