Jaguar E-Type voted best British car ever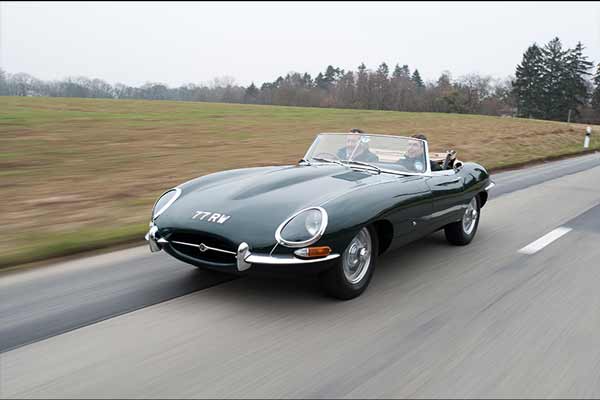 Jaguar E-type voted Best British Car Ever in poll run by Classic & Sportscar – The London Show
The Jaguar E-Type has been voted Best British Car Ever in a worldwide poll run by the inaugural Classic & Sportscar – The London Show, running this weekend (30th October to 1st November at Alexandra Palace London).
Best British car ever poll
Thousands of votes were cast in the run up to the show, shortlisted cars included the McLaren F1, Mini, Bentley Speed Six, Rolls-Royce Silver Ghost and other British motoring icons such as the original Range Rover and Jaguar's own XKSS… but the Jaguar E-Type came out on top.
John Edwards, Managing Director, Jaguar Land Rover Special Operations, said: "This a fantastic accolade for one of Jaguar's most recognisable models ever built. The fact that it has captured the most votes in a global public vote is a testament to its status as one of the world's most iconic sportscars and now, officially, as the Best British Car Ever."
James Elliott, Classic & Sports Car magazine group editor, said: "The E-type has it all, looks to stop traffic even today and a driving experience that has stood the test of time. More importantly than that, though, was that at the time you could not have bought more style and performance for the price. It is a car that seduces young and old and is a very worthy winner and rightly the Best British Car Ever."
Jaguar E-Type History
Back when the Jaguar E-type was first launched, Jaguar originally intended it to compete as a racecar, however it quickly developed into a road-going fixed-head grand tourer and open-top 2 seat sportscar available.
The car was officially unveiled at the 1961 Geneva Motor Show and was an instant hit, the E-type's success quickly attracted many celebrity and VIP owners such as Steve McQueen, George Best, Sir Jackie Stewart, Brigitte Bardot and Frank Sinatra.
One of the display cars featuring on the Jaguar stand at the Geneva Motorshow in 1961 was an open-top version of the E-Type, number plate 77 RW.  The car was famously driven almost non-stop from Coventry to Geneva by Jaguar's legendary test driver, Norman Dewis OBE nearly 55 years ago.  Find out more about the history of the Jaguar E-Type.
Visitors to the Classic & Sportscar – The London Show will have the opportunity to get up close to this very same car, plus listen to tales and insights from Norman Dewis OBE who is confirmed for the Interview Stage.