Jaguar E-type hedge find for sale at Coys Spring Classics auction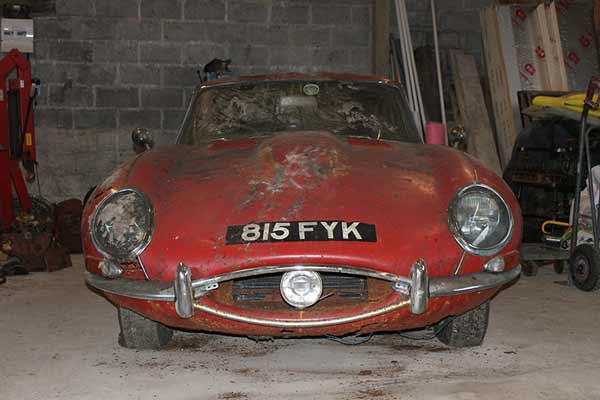 Barn finds have become very popular among classic car enthusiasts but Coys are taking this one step further with a 1963 Jaguar E-Type hedge find for sale at their Spring classics auction in London next week.
The E-Type was rescued from a hedge in the village of Bisley in Surrey.  E-Types have always been popular but with the current strength of the classic car market, they are more popular than ever and even in this condition Coys expect the car to fetch many thousands of pounds.
The car's first owner in May 1963 was Ivor Arbiter.  Ivor owned Drum City and Sound City in London and was at the centre of the 60s music scene.  Ivor became famous for supplying Ringo Starr with his drum kit and designing the iconic 'drop – T' logo for The Beatles.
As the story goes, the Beatle's Manager, Brian Epstein, requested that the band's name appeared on the bass drum.  Arbiter sketched the "drop-T" logo on a scrap of paper with the capital B and dropped T to emphasize the word 'beat'.  Drum City was paid £5 for the design and it was hand painted by local sign writer, Eddie Stokes (who painted bass-drum heads for the store during his lunch hour).
But let's get back to the story of this E-Type.
The car changed owners a couple of times between 1965 and 1967, when it moved to its last owner Frank Riches.  Frank was a keen motorsport enthusiast and raced both the E-Type and his MGTF at Oulton Park, Brands Hatch and Blackbushe between 1967 and 1969.  Frank would drive the E-type to the circuit with the MG behind, race both cars and then drive home.
This fantastic E-Type comes with its original brown log book, V5 and V5C, as well as its last MOT certificate (dated November 1968) and the sales invoice to Frank Riches for £855.  There's also a heritage certificate that confirms all the important details, the original operating maintenance & service handbook, service manual, spare parts catalogue and the original jack.
There are just 44,870 miles showing on odometer and the tax disc on the windscreen shows that it expired in November 1969.
"It is ideal for restoration and is extremely rare" said valuer James Good at international auctioneers COYS, "It has a great history, including racing, which collectors love."
James added: "This wonderful Series 1, 3.8 E-Type is in original condition, with matching numbers and has never been restored.  It retains all the features it carried in 1969 and is possibly one of the most original examples remaining today. The car needs a total restoration but it has all the ingredients to make a superb car – this is a true rarity!!
The Jaguar E-Type hedge find is already attracting attention from around the world.  With the current boom in classic car prices, don't be surprised if this car sells for thousands of pounds when the hammer falls at Coys Spring Classics international car auction next week.