Ex Peter Ustinov Aston Martin DB4 Vantage for sale at Bonhams
A rare Aston Martin DB4 Vantage convertible that once belonged to Hollywood actor Peter Ustinov, is one of the star lots at Bonhams biggest ever Aston Martin Sale
Now in its 16th year, the Bonhams Aston Martin Sale will see some of the most iconic, and valuable, Aston Martin sports cars change hands at Aston Martin Works facility on Saturday 9th May.
The 2015 event is the largest sale so far, featuring more than 250 lots of motor cars and automobilia.  Including twenty one DB4, DB5 and DB6s.
The lots:  the Bonhams' Aston Martin sale
Among the Bonhams auction catalogue highlights catalogue are two rare DB4 convertibles.
The first, and arguably the star of the sale is the 1962 DB4 Vantage Convertible, a Series IV model and one of only nine produced in left-hand drive.  This car was once owned by the Academy Award-winning actor, playwright and diplomat, Sir Peter Ustinov.
This ultra-rare DB4 Vantage Convertible was delivered to him at the Montreux Palace Hotel in Switzerland in 1962.  The car is estimated at £900,000-£1m.
If you prefer the steering wheel on the other side, there is also a right-hand drive, 1962 Aston Martin DB4 4.0-Litre Series IV Convertible, estimated at between £800,000 and 900,000.
Tim Schofield, Bonhams UK Head of Motor Cars, said: "This year's sale features a selection of significantly rare left-hand drive Aston Martins from the Sir David Brown era…only a small number of left-hand drive models were produced, making the models incredibly rare. This year's sale – in which more than a quarter of cars are left-hand drive – is very unusual indeed."
Not that all the lots are left-hand drive cars, there's everything from restoration projects like Lot 201, the 1958 Aston Martin DB Mark III Sports Saloon (estimate £30,000-50,000) to concours-standard motor cars such as the 1952 Aston Martin DB2 Drophead Coupé, once owned by His Royal Highness, Prince Bertil of Sweden – plus many examples of automobilia."
To see the catalogue for Saturday's sale, or place bids online, visit : http://www.bonhams.com/departments/MOT-CAR/
UK Lagonda Taraf debut
Aside from the auction, the event also hosts the UK public debut of the new Lagonda Taraf super saloon.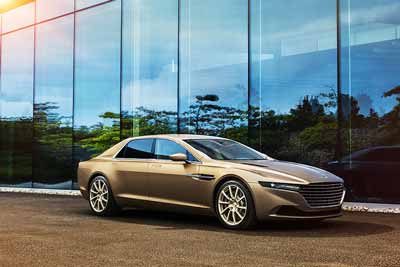 Unveiled last year, Aston Martin announced the new Lagonda would be available in right-hand drive in February.  The Aston Martin Works venue is the perfect debut venue as it's where the last Aston Martin Lagonda, designed by William Towns, was built up to its end of production in 1989.