Enfield 8000 city car becomes world's quickest road-legal EV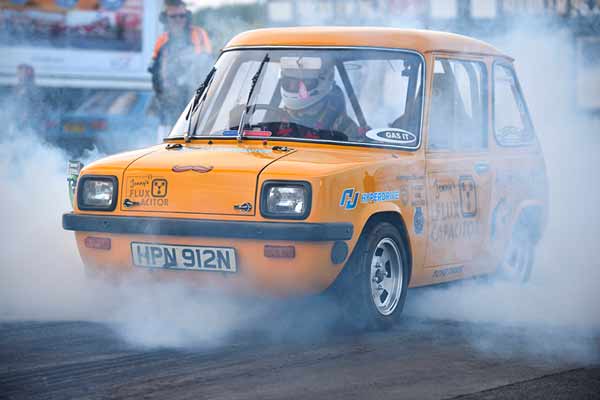 A tiny 1970s British Enfield 8000 electric city car has become the world's quickest road-legal EV
On Saturday 16th July 2016, a near-forgotten 1970's city car, stormed the quarter mile at Santa Pod in a record-breaking 9.86 seconds.  An average of 121mph, the world's quickest road-legal EV.
The Flux capacitor – the world's quickest road-legal EV
The Enfield 8000, nicknamed the Flux capacitor, was driven by and is the brainchild of motoring journalist and serial car modifier Jonny Smith.
Originally the Enfield 8000 packed just 8hp and had a top speed of 40mph.  Today, the Flux Capacitor packs over 800bhp, 1,200lbft of torque and rockets quietly to 113mph in six seconds.  That's quicker than a Lamborghini Aventador, McLaren's 650S, Porsche 911 Turbo S and even Tesla's P90D electric car.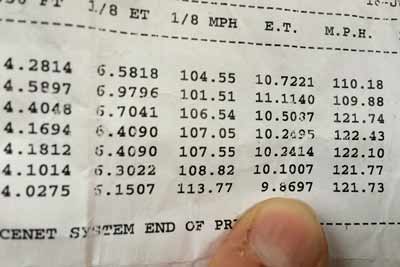 Jonny rescued the car four years ago after it had been written-off due to flood damage.  Inspired by the EV record of 10.25 seconds, held by a converted old Datsun from Oregon.  Jonny set about adding 21st-century electric technology to the tiny Enfield.
The Enfield is powered by 188 lithium-ion battery cells, generating 2000 amps and 400 volts.  This is fed to a pair of 9-inch motors, used normally for running miniguns and starting Bell Super Cobra engines, driving the back wheels.
Despite reaching 100mph in under 6 seconds and being only 2.8 metres long, the Flux capacitor is road legal and exempt from road tax and the London congestion charge.
As it's road legal the car has to run treaded tyres and can't use wheelie bars.  Which with a wheelbase of just 1.7 metres, would definitely help keep the Enfield straight under full acceleration.
Jonny, who has presented TV's Fifth Gear since 2006, is overjoyed about what the little car has achieved:
"Despite so many racers telling me a 68-inch wheelbase car could never safely go as fast as we wanted, the Enfield proved them wrong".  "I set out to build a British electric hot rod. I hope I've achieved something leftfield enough to prove that David certainly can beat Goliath".
Enfield 8000 history
The Enfield 8000 was built on the Isle of Wight between 1969 and 1971.
Only 103 of these cars were built and only 42 of these were sold to the public.  The rest were sold to the Electricity Council.  Perhaps, in part, to the price. At £2808 (1975) the Enfield 8000 cost new, about the same as a Triumph TR7.
Another interesting fact about the Enfield 8000 is that it was designed by John Ackroyd.  who later worked on the Thrust 2 land speed record car.  Perhaps unsurprisingly, he spent a lot of Enfield's design budget on aerodynamics.  This ironically proved useful nearly half a century later, as the Flux capacitor triples the speed of the original car, without any aerodynamic alterations.
Enfield's only other car was the Safari saloon, shown at the 1972 Turin show.
Find out more about the Flux capacitor here