DB Junior, an Aston for the next generation of enthusiasts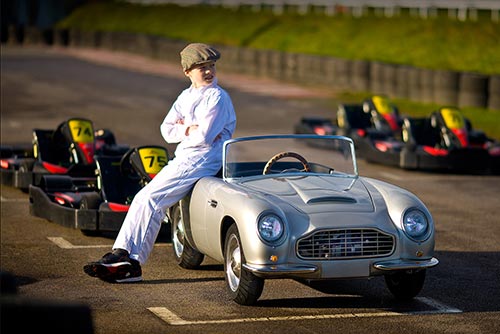 West London Aston Martin Heritage Dealer Nicholas Mee & Co is used to looking after the most demanding clients. In 2014, though, they are looking forward to welcoming a new generation of customer: younger, but no less discerning, to their Goldhawk Road showroom.
Managing Director Nicholas Mee explained the decision to widen the range of cars sold at Brackenbury House:  "When we first saw the DB Junior we couldn't stop smiling. We then realised that these scaled-down 1960s convertibles would complement full-sized offerings here in our showrooms".
"What's more, we regularly have enquiries from our clients looking for something unusual and different to add to their collection of classics. You'd be surprised how well the DB Junior is engineered, and how much room there is in the cockpit. It's big enough for an adult and the pedals can be adjusted so that the DB Junior will fit a wide range of drivers. Let's say 'junior drivers of all ages'."
The 2500mm x 1030mm DB Junior is powered by a 110cc, four-stroke petrol engine with key-operated electric start. Like many of its grown-up relations, it has Brembo disc brakes and a semi-automatic (3-speed) gearbox. Top speed – which can be restricted downwards  – is 46mph and the composite bodywork sits on a sturdy steel box-section chassis. The driver will have full use of indicators and even lights. And, for those Mr Toad moments, the horn will Parp! Parp! in an instant.
DB Junior customers can choose from a wide-ranging palette of colours and trim that can even be matched to a full-size Aston already in the family.  Please contact Nicholas Mee & Co. for further information.