Classic Motor cars restore early E-Type No.34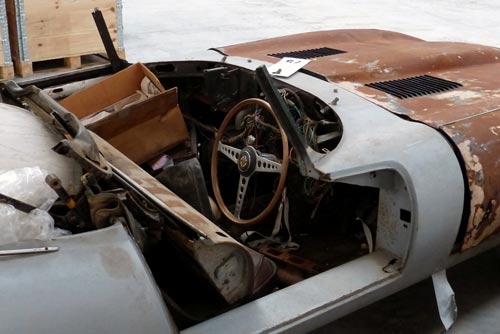 A very early 1961 Jaguar E-Type Series 1 Roadster is to be restored by Classic Motor Cars, the world renowned Jaguar restoration company.
This car was the thirty-fourth to leave the production line and is one of the very few early 3.8-litre 'flat floor' right hand drive Jaguar E-Type roadsters that has remained unrestored.
Nick Goldthorp, Managing Director at CMC, said: "This original right hand drive E-Type went out to America around 1980 and has been there ever since until it was brought back to the UK in 2011.
Overall, the bulkheads, front and rear are in good condition. The bonnet is a bit worse for wear but we have actually found an original 1961 E-Type bonnet that we can use. Otherwise, this E-Type is complete with its original engine, transmission and rear axle."
He added: "This will be a full nut and bolt CMC restoration. Every aspect of the car will be covered and brought back to the original specifications. Once finished, Chassis No. 34 will leave our workshop just as it left the factory back in 1961."
CMC is famous for having restored some of the most historic Jaguar E-Types, including Lofty England's Chassis No. 4, the Lindner-Nocker Lightweight and 1VHP, the first RHD Coupe off the production line. They are currently restoring another early flat-floor E-Type, Chassis No. 60.
These early E-Types were labelled 'flat floor' due to the lack of a dropped floor area that increased the leg room and was added in subsequent cars.
The company will start restoring Chassis No. 34 for a client towards the end of May.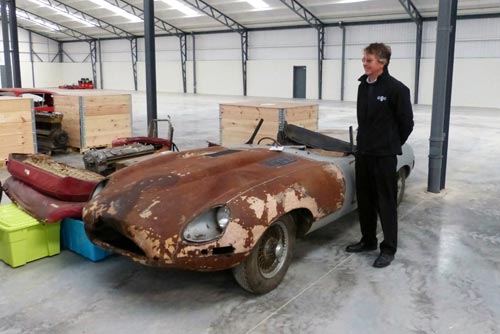 Additional information:
Make and model:                      Jaguar E-Type Series 1 3.8 litre
Body style:                                  Open two-seater, right hand drive
Date of manufacture:               19 June 1961
Chassis number:                        850034
Engine number:                         R 1157-9
Body number:                            Originally: RR 1150
Gearbox:                                     EB 262 JS
Transmission:                            Manual
Exterior paint colour:               Opalescent Dark Green
Interior Trim colour:                 Suede Green
Hood (soft top) colour:             Black
Original distributor:                  Henlys, London
Original dealer:                           Mann Egerton & Co Ltd, Norwish
Date of despatch:                        14 July 1961