Classic car Auctions March 2016 sale preview
 Classic Car Auctions March sale first sale of 2016 takes place this Saturday (19th March).  We take a look at some of the star classic cars for sale at the Warwickshire Exhibition Centre this weekend.
Classic car Auctions are famous for featuring 'everyman' classic cars in their sales and this weekends sale is no exception.  CCA promise that their March 2016 sale will be their biggest and best catalogue yet, with 113 classic cars going under the hammer.
1966 Ford Mustang 289 for sale
Headlining the sale is this beautifully restored 1966 Ford Mustang 289 2+2 Fastback.
The 289 Fastback is possibly the most popular classic Mustang among Ford fans, with the desirable 'four on the floor' manual gearbox.
The restoration of this Mustang was thorough and involved work to the bodywork, interior, engine and gearbox.  The Mustang for sale is believed to be one of the very best examples on the UK market right now and is estimated to sell between £34,000 and £38,000.
Another Ford in the sale worth a look comes in the shape of a rare Sierra XR8. Fast Ford's with Cosworth and RS badges have been racking up hefty auction prices in 2016 so far.  So this left-field South Africa 1985 Ford Sierra XR8 has to be worth a look?
The XR8 for sale at CCA was never officially sold in the UK and one of only 250 ever made.  Built for homologation purposes and powered by the 302 cu in 5.0 litre V8 from the US Ford Mustang.  This car has a (reasonably) low mileage and at a price estimated between £8,000 and £10,000, looks like a real bargain compared with homegrown Fast Ford's of a similar vintage.
Aston Martin barn finds for sale
For someone looking for more of a restoration project, not one but two Aston Martin barn finds feature in the sale.
The first is a rare manual 1973 Aston Martin V8, one of just 288 produced and is estimated at between £35,000 and £40,000.
Featuring louvered rear vents, this Series III Aston Martin V8 houses a 5.3 litre V8 engine. The interior is black leather and described as being still in good condition.
The second Aston Martin in the sale is a 1990 Aston Martin Virage.  The car has been with its current owner for for the last five years, having been bought as a project and has been dry stored for most of this period. Again featuring a rare manual gearbox, the car has covered just 34,000 miles and is estimated between £20,000 and £25,000.
For Aston Martin fans looking for something to drive home in, a 2000 Aston Martin DB7 Vantage Volante is also going under the hammer.  With just 34,000 miles on the clock, this car is described as well cared for and comes with an impeccable service history.  The DB7 Vantage Volante is estimated to sell between £32,000 and £35,000.
2000 Subaru Impreza P1
Looking further East, the limited-edition Subaru Impreza P1 for sale is one of just 1,000 examples made.
The P1 was engineered by Prodrive to give UK Impreza fans a homegrown choice against the wave of grey imports that were coming over at the time.  Among Subaru performance car fans the P1 is considered one of the finest Impreza models of all-time.  Only 669 Impreza P1's are believed to be around today, with an estimate of between £10,000 and £12,000 this car looks very tempting indeed.
Japanese performance car fans looking for something a bit older, might be interested in the 1979 Mazda RX-7 in the sale.  Like many seventies classics, early Mazda RX7's are really quite rare today. This UK right hand drive car has just 35,000 miles on the clock, is in time warp condition, with the same owner for the past 36 years and is estimated to sell between £10,000 and £12,000.
One celebrity owner
The 1939 Fiat 500 Topolino for sale was originally owned by the second Duke of Westminster.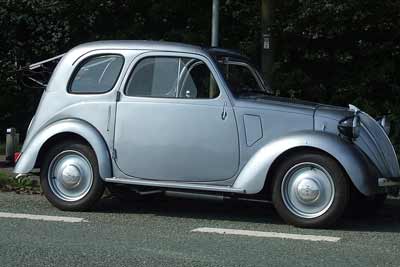 One of just 400 made, this fully restored comes with an incredibly low mileage, just 1,593 miles over the last 77 years.
The Duke ordered his car with a 569L straight four side valve engine, with a manual gear box and in right-hand drive in 1939.  During World War II, the Topolino was transferred to the Duke's Dublin estate while his home at Eaton Hall was used as a hospital. The car was shipped to back to Eaton Hall after the war and ownership transferred to the Dowager Duchess in 1953 after the Duke's death. The car remained part of the Westminster estate until 1986 when the current owner acquired it.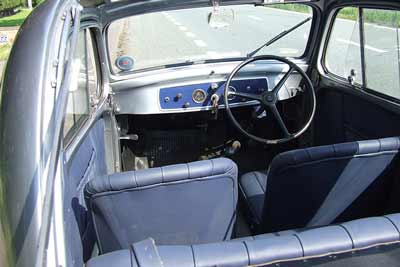 Having been with its current owner for 30 years, this special Fiat has benefitted from a lengthy and careful restoration that includes a engine rebuild and a new leather interior.  The Fiat 500 Topolino comes with an estimate of between £12,000 and £15,000.
Music fans may be interested in the a 2005 Maserati Quattroporte for sale.
The car was ordered new by Sir Elton in 2005 and features a host of extras, including a DVD player and screen, games input, two headphones, remote control and six CD auto changer (estimate £15,000 to £17,000).
The CCA March 2016 Sale
The sale takes place on Saturday 19th March at Warwickshire exhibition centre.
http://carphile.co.uk/event/cca-march-sale-2016/
Those not able to attend the sale in person this weekend can register to bid online or by phone, or by leaving a commission bid with CCA before the sale.
You can view the full list of cars on offer at the Classic car Auctions website.