Bentley announce new luxury SUV in 2016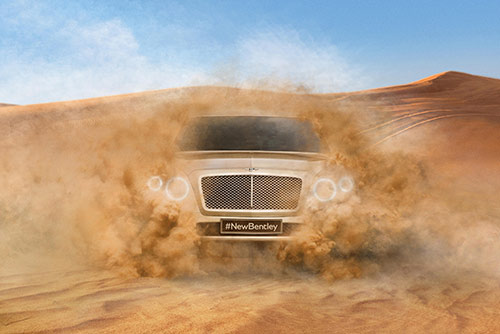 Bentley Motors released the first picture of their Bentley SUV, due to hit roads in 2016.  This follows on from their EXP9F concept, first seen at the Geneva Motor show in 2012.
Although the picture doesn't give much away, Bentley claim it the new SUV will be the most luxurious and powerful SUV on the market, true to the 95 year old marques values of luxury, performance, quality and craftsmanship.
Dr Wolfgang Schreiber, Chairman and Chief Executive at Bentley Motors, commenting at a press conference in London, said: "It will create a completely new segment in the SUV market."
The SUV forms part of Bentley's £800 million investment in new model and facilities development over the next three years. The company anticipates sales of at least 3000 SUVs a year.  With Bentley enjoying sales of 10,120 cars globally in 2013, a record year, 3000 extra sales would increase this by nearly a third.
Purists may abhor the very concept of a Bentley SUV but with the Americas, China and the Middle East accounting for well-over half of Bentley's global 2013 sales, territories where SUV's are incredibly popular, you can understand why Bentley is so keen to add a luxury SUV to their range and how key it will be in helping them acheive their sales ambitions.