Rare Aston Martin for sale at Lancaster Insurance Classic Motor Show

A 1954 Aston Martin for sale, the rare DB2/4 with a charming racing history is to be offered in Silverstone Auctions' two-day sale at the Lancaster Insurance Classic Motor Show on the 15th and 16th of November 2014.
In February 1954, Mr Frank Defty took delivery of a brand new Aston Martin DB2/4 from Kirk & Kirk Ltd in Putney. Almost immediately, Defty, with barely a modification added, entered his standard road-going car into the 2000 mile RAC Rally. This was followed by events at Goodwood, Oulton Park and Snetterton.
Just three months into its life in May 1954, the car was lined up against stiff competition at the very first meeting at the then brand new Aintree Race Circuit.  Defty was pitted against (now legendary drivers) such as Colin Chapman, Carroll Shelby and Roy Salvadori. His trusty Aston went on to finish the race 24th out of 25 starting cars, with Chapman crashing out of the race!  (CP: "It's not about winning….")Mr Frank Defty continued to race 'UPC 893' at meetings up and down the country before being sold in 1955, seemingly having only ever covered racing miles. The car's plucky spirt endured surviving a garage fire in 1978 and was restored to a high standard by a subsequent owner.
Aston Martin for sale, sympathetic recommission
The current vendor discovered the car in storage, albeit in amazing condition, in 2007 and set about completing a simple recommission.  Commenting on the wonderful Aston Martin for sale,  Paul Campbell, sales manager at Silverstone Auctions said: "This is an amazing car with an equally amazing history and the vendor's enthusiasm for the car is infectious. The car is completely authentic, ready to be enjoyed and begin a new chapter of its fascinating story."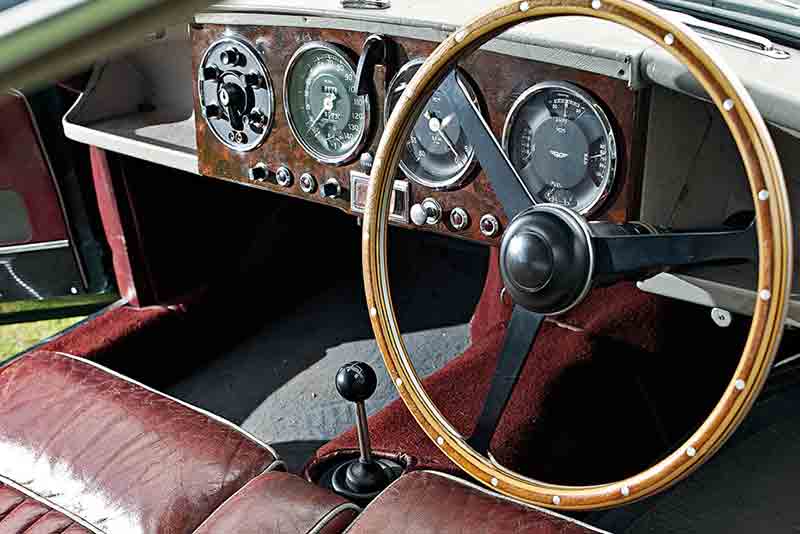 The car will be sold as part of Silverstone Auctions' sale at the UK's biggest classic car show, which takes place at the NEC, Birmingham next month.  Estimated at between £130,000 and £160,000, today this Aston looks sensational, authentic and proudly bears the patina of a car that's been driven and enjoyed.
To find out more about the car please visit the Silverstone Auctions website.