1000 Mile Trial – route announced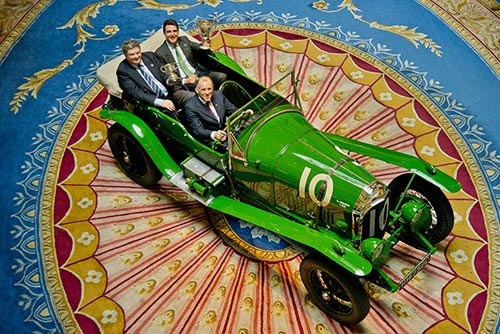 In July 2014, the 1000 Mile Trial will take drivers on an epic classic car rally across the United Kingdom that closely follows the original route taken by daring motorists in 1900.
Organised by the Royal Automobile Club in partnership with the Historic Endurance Rallying Organisation (HERO). It will also be a qualifying round of the 2014 HERO Cup. This trial celebrates the original event, first run in 1900 and runs from 12th to 19th July 2014.
Patrick Burke, joint Managing Director of HERO, said: "The event is to have up to four regularities and two or three tests per day. many on the original test areas and hill climbs and will also visit several stately homes and venues. However, unlike the first run of the 1000 Mile Trial, the crews will start the event and finish at Woodcote Park!". He added: "We will follow the original route as much as possible but in many places the roads used in 1900 either no longer exist or are now major trunk roads."
Gregor Fisken, Director of Fiskens one of the supporters of the event, said "Fiskens are honored to be involved in our own capacity with the celebration of the 1000 Mile Trial…we fully support the chance that this event represents for a growing number of enthusiasts to enjoy using their cars. The 1000 Mile Trial represents a landmark; the ultimate challenge for drivers and navigators of the finest pre-war cars."
There are some important entries confirmed so far including a 1932 Rolls Royce Phantom II, which is coming out of the Caramulo Museum in Portugal specifically to take part in the event and an original 1929 Bugatti Type 37A once owned by Tazio Nuvolari, the famous Italian motorcycle and race car driver.
Patrick Burke said: "These are just a few of the interesting cars that will be campaigned on this event but we know of a number of international collectors preparing and restoring similarly important and impressive vehicles to take part".
The 1000 Mile Trial is open to cars manufactured before 1940. Entries are still available.
For further information please visit: http://heroevents.eu/Events/thousand_mile_trial/