A Hawk 289 Cobra owner explains what he loves about his car.
The owner of this Hawk 289 Cobra was bitten by the Cobra bug (sorry couldn't resist) early on as his father once owned and raced an original AC Cobra.
Years later his mother decided, as her son very obviously had inherited the family interest in AC cars and Cobras and that she didn't get to drive the car back in the sixties that they should buy another Cobra and put that right.
But with AC Cobras rather less affordable than they were in the 1960s, this Cobra hunting pair opted for Hawk 289 FIA.  The car is made by Hawk Cars, inspired by the racing AC Cobras of the 1960s.  (Arguably) The Hawk 289 has the performance, sound and feel of an original Cobra, without the seven-figure price tag.
"I just love the sound, the feel, the history that comes along with it. There's a whole sensation that goes with driving a car that talks to you, that you can
feel that responds to what you do and you feel those responses…"

Hawk 289 Cobra Owner
A couple of nice stories from the day that we wanted to include (but didn't know where else to put).
Famous signatures
As well as the Rover V8, the car sports a number of famous signatures under the bonnet.  While on display at the Hawk cars Race Retro stand, Barry 'Whizzo' Williams and 1981 World Rally champion, Ari Vatanen, signed the car.  Just for good measure, AC racer and enthusiast, Kevin Kivlochan has also signed the car as well.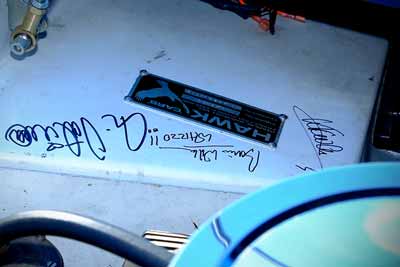 Blaze the Sock Monkey – Spinal Track
Who said don't mix monkeys and Cobras?  Blaze the sock monkey is from UK charity Spinal Track, who this Cobra owner keenly supports.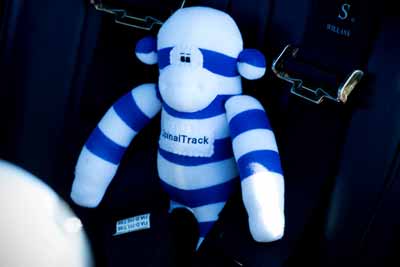 The charity was founded by two racers who recognised the lack of cars available for disabled car enthusiasts wanting to take part in track days.  Why not get a monkey yourself and help Spinal Track to buy another racing car adapted for disabled car enthusiasts by donating here.
We hope you enjoy watching.  Our thanks, as always, to the owner and the 289 Register for their time in arranging/making this video.
See more Hawk 289 Cobra videos on our video pages or subscribe to Carphile.co.uk on Youtube to stay updated with UK classic cars and events videos
What is it you love about the Cobra? Please tell us what you think in the comments below