London Classic Car Show 2016
18/02/2016 @ 9:00 am

-

21/02/2016 @ 5:00 pm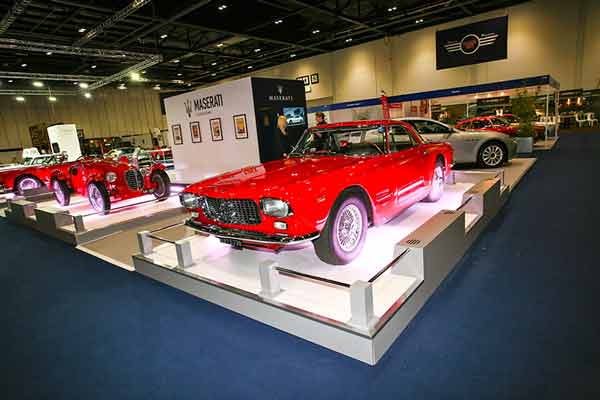 London Classic car Show 2016 returns to ExCeL London from 18th to 21st February
After an incredibly successful inaugural 2015 show, the 2016 show promises to be bigger and better.
When they say bigger, they mean it literally.  For 2016 the show has added an extra hall, making it nearly twice as big as the show in 2015.  This extra space promises to be crammed with innovative features, mouth-watering classic cars, a star-studded list of celebrity visitors and displays from 25 of the country's top car clubs.
London Classic Car Show 2016 – What's on?
The London Classic Car Show 2016 ) is incorporating 'Car Club Square' an entire new hall that will be dedicated to the best single marque classic car clubs.
Around 25 leading car clubs will be on hand to show off their prestige and performance cars and create a stunning display of classic cars from the 1920s to the 21st century.  Clubs already confirmed include Aston Martin Owners Club, BMW Car Club, Jensen Owners' Club and Mercedes-Benz Owners Club with many more to be confirmed shortly. Porsche Club Great Britain is another to be out in force at the Show.
The hall will also feature stands from classic car dealers, while visitors will be treated to period entertainment, continuing the hall's retro vibe.
Among the other aspects of the London Classic Car Show 2016 that will be bigger is the event's centrepiece, 'The Grand Avenue', a highway running through the middle of show and along which many iconic classics will be driven.  Everything from genuine Formula 1 Grand Prix racers to priceless classic cars to London to Brighton veterans will once again turn a wheel on The Grand Avenue, letting visitors see and hear their favourites in action.
The second London Classic Car Show will also introduce a number of other new features, including 'Classic Corner', an open forum running virtually continuously throughout the show where guest speakers will talk about classic cars as investments, about the pleasure classic car ownership can bring and offer advice about buying at auction.
London Classic Car Show 2016 celebrates the McLaren F1
Arguably the greatest super car of all time will be celebrated at London Classic car show this year, the McLaren F1.
According to its creator, Gordon Murray, the McLaren F1 was "an attempt to build the best engineered driver's car ever made."
It was an attempt that clearly succeeded… according to F1 owner, car enthusiast and serial car collector Jay Leno, it is simply "the Greatest Car of the 20th Century."
Produced between 1992 and 1998, just 106 examples were built. Of that figure a mere 64 were standard road cars, so there's only a remote chance of seeing one in the flesh.
A top speed of 235mph, gold leaf coated exhausts and…the world's first 'million dollar motor' (each McLaren F1 cost £634,500 when new).  It sounds like a lot, even today but partly because each car took three and a half months to build and also because each car was crammed full of exotic materials including gold leaf, titanium, magnesium and Kevlar, McLaren lost money on each car made despite that heady price tag (a pretty shrewd investment if you could afford it, last August a 1998 McLaren F1 LM sold at auction in America by Sotheby's for close to £9 million).
No fewer than five McLaren F1s will be on show at London Classic car show 2016 – two 'standard' road cars, two GTR racers and a 'long tail' F1 GT road car.  Don't miss it!
Classic cars from around the world battle it out in the classic six nations
London Classic Car show have revealed the theme for this years show – the classic six nations.  The London Classic car show 2016 will see classic cars from Italy, France, the UK and US, Germany and Japan will battle for national glory along the Grand Avenue.
"By assembling ten of the finest classic cars from each of the Six Nations and parading them along The Grand Avenue, we can ask show-goers to decide for themselves what's their favourite car making country," said Event Director Bas Bungish.
Although the final list of cars has yet to be confirmed, among the marques promised are Ferrari and Lamborghini from Italy, Ford and Chevrolet from the US, Bentley and Jaguar (UK), Bugatti and Citroën (France), Mercedes and BMW (Germany) and Datsun and Toyota from Japan. Expect road and competition cars with plenty of rarities.
Tickets and admission
A standard adult entry ticket will cost £23 (children £17) with family tickets available at £65.
Premium access to the glittering premier evening will cost £65 each for which tickets will be strictly limited.
Ticket bookings can be accessed via the show website
Please bookmark this page carphile.co.uk will bring you further updates of what is happening at London Classic Car show 2016