London to Brighton Veteran car run 2016
06/11/2016 @ 7:00 am

-

5:00 pm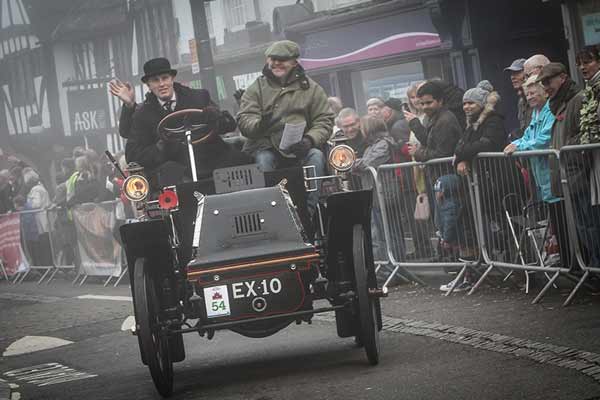 As tradition dictates, the London to Brighton Veteran car run 2016 takes place on the first Sunday in November, (6th this year).
The first veteran cars leave Hyde Park at sunrise.  More than 400 three and four-wheelers made the annual pilgrimage from London to the Brighton seafront in the event last year.
The Run is open to all vehicles built before 1905, making the youngest car on the Run more than 110 years old.  While many will be petrol-powered, some will be powered by steam and a handful will be battery-powered electric vehicles.
The Run itself will also be celebrating two anniversaries this year.
The very first is the celebration of the very first 'Emancipation Run' itself.  The first London to Brighton run was held 120 years ago in November 1896.  The run marked the passing of the Locomotives on the Highway Act which raised the speed limit for 'light locomotives' from 4mph to 14mph and abolished the need for the vehicles to be preceded by a man carrying a red flag.
The second anniversary marks 130 years since the patent was granted to Karl Benz for his Motorwagen.  The original patent was granted on January 29th 1886, successful tests on public roads were carried out in the summer of 1886 and two years later, the 'Mk III' version was offered for sale, becoming the world's first commercially available automobile.
Tom Purves, Chairman of the Royal Automobile Club, said: "Karl Benz and his wife Bertha, who, in 1888, undertook the first long distance journey by car, were far-sighted automobile pioneers… but even they would be amazed by the role the car plays in 21st Century life. It is highly fitting that the 2016 Bonhams London to Brighton Veteran Car Run should honour Benz, his contemporaries and his country's role in the history of the motor car."
Tickets and admission
The London to Brighton Veteran car run 2016 is free to view .
'The Run' one of the Royal Automobile Club's London Motor Week.  A seven day celebration of motoring, including an art exhibition, motoring heritage lectures, a motoring forum and a motoring book awards evening.
The penultimate event in the week is the free-to-view (and very popular) Regent Street Motor Show, on Saturday 5th November, turning London's premier shopping street into a motoring showcase for modern and veteran cars.
For more details of the London to Brighton Veteran car run and access to registration forms please visit www.veterancarrun.com.
Please bookmark this page, Carphile.co.uk will update this page as further information becomes available.