Aston Martin Owners Club Racing Festival 2014
28/06/2014 @ 9:00 am

-

29/06/2014 @ 6:30 pm

See text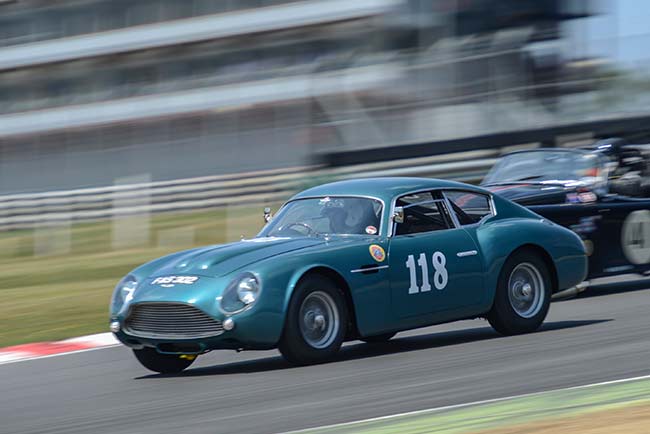 Brands Hatch circuit hosts the very best Vintage, Historic and Classic car racing on 28-29th June at the AMOC – Aston Martin Owners Club Racing Festival 2014.
The weekend programme of eleven races, pays homage to a varied range of motorsport disciplines where British teams and marques excelled covering endurance, sports-racers,pre-war and Grand Tourers.
AMOC Racing programme for Saturday 28th
Races are held on the 'Indy' Circuit, kicking off with an endurance race for the AMR GT4 Challenge of Great Britain. Equipe GTS features small capacity production sports cars that would have flown the British flag at Le Mans in the 1960s – Triumph, Austin-Healey, MG, Aston Martin and Elva and, all be-it several decades previous the Aston Martin, Bentley and Rileys that appear in the Pre-War Team Challenge.
The Innes Ireland Cup is named in honour of the larger-than-life racer of the 1960s who starred in Formula One and endurance racing. AC Cobra, Jaguar Lightweight E-type, Aston Martin DP214 Replica will be driven hard in this forty five minute event.
There is strong support for a double-header AMOC 1950s Sports Cars including the Vredestein Jaguar XK Challenge; Jaguar XK120 and XK140s lay the gauntlet to Austin-Healey 100, Cooper Bobtail, Lister Jaguar, Aston Martin DB2, DB3S, DB2/4 and DB4 in these 30 minute races – one on the 28th and 29th.
The AMOC Intermarque Championship also enjoys two outings, the line-up of Ferrari, Aston Martin, Porsche models spanning seven decades is the most varied in motorsport. Close action throughout the field is guaranteed as racers battle to accumulate championship points for their representative marques.
<h2>AMOC Racing programme for Saturday 29th</h2>
Sunday's races are held on the famous Brands Hatch Grand Prix Circuit, which sees another outing for Equipe GTS class racers compete for two of Europe's most prestigious historic racing trophies.
Motor Racing Legends' RAC Woodcote Trophy for period specification sports-racers of the post-War era, up to and including December 1955 will see Jaguar C and D-Types scrapping with Frazer Nash, Austin-Healey and Lotus in a race just shy of an hour long in duration and is set to be one of the highlights of the weekend.
The GT and Sports Car Cup is for genuine Pre '66 GT and Pre '63 Sports-Cars that competed in the World Endurance Championship. This hour and a half weekend finale sees drivers at the top of their game from the UK and Europe compete in a mouthwatering grid of Jaguar, Lotus, Bizzarini, Porsche, AC Cobra, Lister and MG classic cars .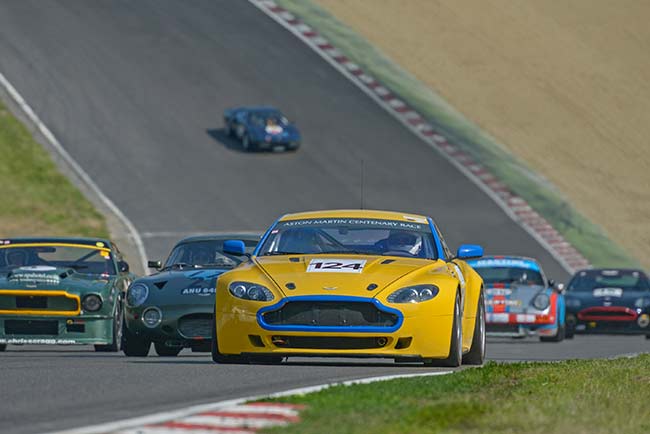 Opening times and ticket prices
Saturday's competition gets underway at 9.00am with qualifying before the first race, the AMR GT4 Challenge of Great Britain at 12.15pm.
It recommences with "Equipe"GTS at 2.35pm after the lunch break and Aston Martin track parade until approximately 6.30pm.
Qualifying commences at 10.00am on Sunday with the first race, the RAC Woodcote Trophy commending after the lunch break and Aston Martin track parade at 1.15pm followed by four further races.
Weekend tickets are available for £18 in advance, online. Single day tickets cost £10 (Saturday) or £14 (Sunday) on the gate. Children under 13 go free.
Book at: www.brandshatch.co.uk and see www.amocracing.org for more information