Simply Ford 2017
30/04/2017 @ 9:00 am

-

5:00 pm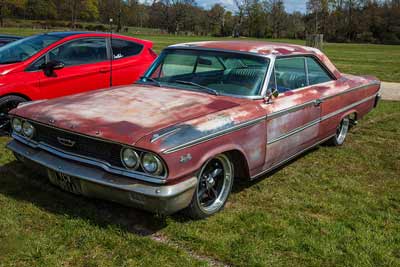 Simply Ford 2017, an event for fans of classic and modern Ford cars returns to the Beaulieu National Motor Musuem calendar returns on Sunday 30th April.
More than 1,500 Ford vehicles of all ages are expected to join the display for Simply Ford 2017.
The event has been a huge success since its launch in 2010.  Whether you are a fan of Ford classics, modern hatchbacks, standard, modified, show queens or perfect patina, you'll find them all at this show.
Simply Ford 2017 – What's on?
The event is open to all ages and types of Ford vehicle, from show-pieces to rolling restoration projects and day-to-day drivers.
Held in the grounds of the Beaulieu National Motor Museum, the rally gives Ford owners and enthusiasts the chance to meet like-minded enthusiasts, admire the vehicles on show and then enjoy motoring delights of the National Motor Museum.
Modern Ford models are at the heart of the event, with Focuses, Mondeos, Fiestas and Pumas well-represented in the line-up. There will be plenty of eye-catching classic Fords on show as well. Modern classic's such as the Sierra or Escort, as well as crowd-pleasers including Granada, Cortina, Capri and Anglia.  Not forgetting American favourites like the Mustang and Galaxie.
As with all Simply events, visitors can vote for their favourite Ford at the show in the People's Choice Award.  In the afternoon, the winner receives a trophy and leads a cavalcade of the most popular cars at the show through the grounds.
Fifty years of the Ford Escort
A special area will be reserved at the show to celebrate the 50th anniversary of the beloved Ford Escort Mk1.
You can bet on a range of Mk 1 Escorts from humble family favourites to modified and competition cars to celebrate the Escort's proud history as a icon of motoring and motorsport.
Ford owners clubs at Simply Ford 2017
The event is a favourite with Ford owners' clubs and enthusiasts.  Already 35 clubs have booked to attend in 2017.
ST220 Enthusiasts, the Ford Mondeo Mk2 owners' group and Mondeo Mania are amongst the clubs showcasing the Mondeo. Other model-specific clubs, such as the Ford Probe Owners' Club and Electric Orange ST Owners club, will be out in force with their  cars.
If your Ford club hasn't book a place, stands are still available.  Please book your club stand at least two weeks in advance.  To find out more, contact the Beaulieu Events team.
Simply Ford 2017 – Tickets and Admission
For rally participants arriving in a Ford, entry to the Beaulieu grounds is from 9am.  Friends showing their cars, should arrive at the same time if they wish to park together.  All other visitors should enter Beaulieu via the main reception at normal Beaulieu prices.
Simply Ford adult tickets are £10 and £5 for a child.  Tickets can be purchased on the day or in advance at the Beaulieu website.
Admission includes access to all of the Beaulieu attraction.
Simply Ford is part of Beaulieu's line-up of Simply rallies.  In 2017 this includes Simply Japanese, Simply Classics & Sports Car and Simply Aston Martin.