JD Classics Breakfast morning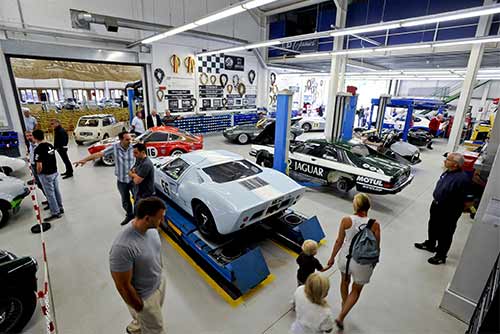 On the sunny morning of Sunday 14 June 2009, leading classic car specialist JD Classics opened the doors to its purpose-built facilities in Maldon, Essex, to a curious and appreciative group of motoring enthusiasts as JD Classics hosted its very first Breakfast Morning.
Five years on, the audience for the regular JD Classics Breakfast Mornings has grown, with the much-anticipated JD 'open days' on a Sunday morning proving to be a popular draw for classic car fans, historic motor racing enthusiasts, and anyone with a love of fine cars, world-class craftsmanship and an appreciation of technical excellence.
Having hosted a series of successful Breakfast Mornings for the past five years, enthusiasts will be delighted to learn that JD Classics is once again preparing to open the gates of its Maldon-based headquarters for two of these popular Sunday morning events this year, with a summer Breakfast Morning scheduled for Sunday 15 June (five years and one day by date after the inaugural event), and an autumn meeting set for Sunday 16 November.
Having entertained crowds in excess of 1,000 last year, the breakfast mornings allow visitors to view JD Classics' six vast showrooms, boasting some of the world's finest and most sought-after classic cars. Visitors to JD Classics can also get a behind-the-scenes glimpse into the work that goes into producing the concours and competition winning cars with which the Essex classic car specialist has become so synonymous.
As well as having the fascinating chance to look the behind the scenes at the exacting work of its 50 in-house specialists, JD Classics regularly hosts special Q&A sessions too, with many motor racing legends having appeared at previous Breakfast Mornings, including John Surtees, Win Percy and Sir Stirling Moss.
Breakfast Morning guest speakers are yet to be announced for this year but will be announced shortly.
On-site catering is available to purchase throughout the Breakfast Morning, and JD Classics' specialists will also be on-hand throughout the morning to answer any technical questions and queries.
For groups of five or more vehicles who would like to secure parking for a Breakfast Morning event, please call Charlotte Henry at JD Classics on +44 (0)1621 879579.
Please check the organiser website before travelling to the event