Beaulieu National Motor Museum
Beaulieu National Motor Museum in the heart of the New Forest in Hampshire, is one of the UK's leading Tourist Attractions.
The National Motor Museum boasts over 280 stunning vehicles on display, from family cars of the 30s and 40s and classic cars of the 70s and 80s through to rare motoring oddities such as a giant orange on wheels.
Special displays include For Britain & For The Hell Of It featuring Beaulieu's iconic land speed record cars accompanied by a moving audio-visual presentation telling the story of British land speed record achievement.  The Motorcycle Story takes you on a journey through motorcycling history.  Jack Tucker's Garage recreates the sights, sounds and smells of a typical country garage from the 1930s while 'Wheels' – a space-age pod ride – is a fascinating voyage through 100 years of motoring.
On Screen Cars has a display of TV and film favourites including Del Boy's Reliant Regal as featured in the BBC sitcom Only Fools and Horses and Mr Bean's famous lime green Mini. Also on display are the flying Ford Anglia, used during the filming of Harry Potter and the Chamber of Secrets and Wallace and Gromit's Anti-Pesto Van.
World of Top Gear, features actual vehicles created by presenters Jeremy Clarkson, Richard Hammond and James May for some of their most ambitious challenges on the BBC2 TV show over the years and experience the Top Gear 'Enormodrome' which aims to recreate the feel of the Top Gear studio.
Tickets and admission
Beaulieu is open every day except Christmas Day, from 10am to 6pm.  Please check the Beaulieu website for current ticket prices.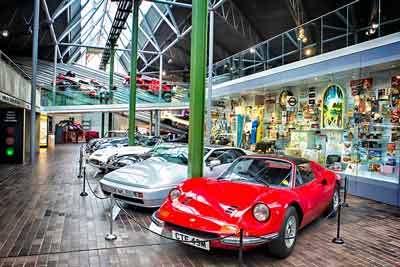 Upcoming Events
There were no results found.