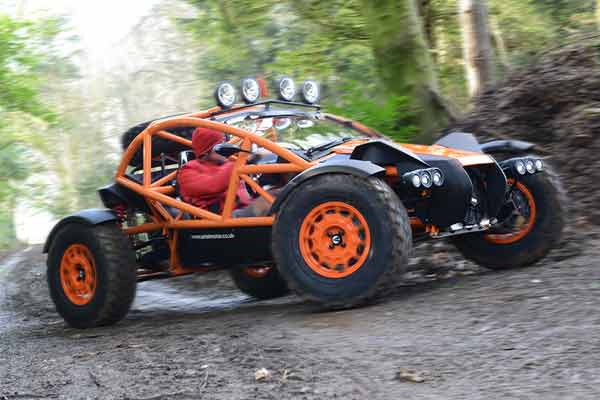 Ariel Nomad
The Ariel Nomad, a car that finally answers the question "What would an off-road Ariel Atom really look like?  Carphile.co.uk brings you all the info on Ariel Motor Company's exciting off-road fun machine.
Ariel Motor Company launched their Nomad off-roader in Summer 2015.  Designed in house by the Ariel team who revealed the desire to build an 'off road Atom' had existed within their Somerset walls for some time, fuelled by owners who had occasionally contemplated how much fun an 'Atom with knobbly tyres' would be.
While it may look like a pure-bred 21st century dune buggy, the Nomad has been designed and engineered for driving on road as well as off it.  The car was tested on WRC stages, rock falls and off road race tracks, as well as proving grounds and race circuits.
If that sounds like a lot of fun, you had better believe it.  See for yourself, watch the Ariel Nomad in action in this behind the scenes testing video.
Ariel Nomad – Design
There's no mistaking the shared genes between Nomad and the Atom sports car.  .
While both cars share a certain amount of components, as well as Ariel's minimal design philosophy, it's that bright orange, exposed steel chassis you notice first.  The hand-built chassis provides a built in safety cage, offering not only roll over protection but enormous structural rigidity.
The Nomad's bodywork has been designed and carefully selected to withstand the rigours of driving on and off the road.
Take the mudguards for example.  They may be lightweight but they are anything but flimsy.  Moulded in self coloured, toughened polyethylene plastic – the process and material used to make road cones and boat fenders.  This ultra tough material not only looks the business but is also virtually unbreakable.   Flexing and springing when put to the test, rather than breaking.
Ariel Nomad – Engine
Powering the Nomad is a 2.4 litre 4 cylinder K24 iVTEC Honda engine.  Pumping out 235 bhp at 7200rpm, performance figures are similar to a standard Atom but (slightly) restricted on the Nomad by specification and tyre choice.
The 0-60mph dash takes just 3.5 seconds, with a top speed of 136mph, on or off the road (eek!).
Suspension and braking system
The Nomad features outboard aluminium dampers, developed in conjunction with Bilstein.  The low-friction, monotube design has been constructed to provide road comfort but also off road and on track performance.  The Nomad has over 300mm (12") of ground clearance, a front approach angle of 71 degrees and departure angle of 82 degrees (dependant on tyre and wheel specification).
Nomad customers can choose different dampers and springs, tailored specifically for the conditions the car will be used in.
Braking is via ventilated discs and light alloy calipers that minimise unsprung weight and can be adjusted front to rear.   For drivers wanting to use their Nomad in off road competition, there is the option of an in-line hydraulic handbrake.
Interior
The Nomad's interior, with individual lightweight seats is designed to be simple and completely weatherproof.  In the style of an old Land Rover, the Nomad can be driven in any conditions and then hosed out afterwards.
The windscreen option with a twin wiper system gives forward protection whilst a full weather equipment option covers the sides, rear and roof and is the first Ariel that has a roof and doors, even if they are zippable roll up units (Ariel owners are hardy types, any more concession to luxury would leave them cold).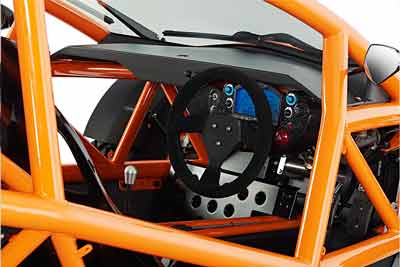 Instrumentation is via a Race Technologies LCD dash. The instruments feature programmable gearshift lights plus multi screen information that can be set up and scrolled through by the driver. There is also the option of a data logger that can display and record real time performance.
Ariel – each car is unique
Each Nomad is handbuilt by one Ariel technician in an individual build bay. Nomad buyers can even visit the factory to see their vehicle being built and discuss their Nomad directly with the technician building it.
As with other Ariel Motor Company vehicles, the Nomad can be upgraded over time. Owners can return their Nomad to the factory where upgrades, modifications and new options can be fitted to change it for different uses or to modify the specification.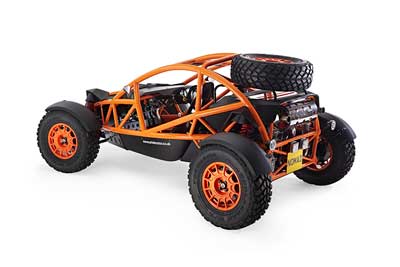 ———————————————————————————————————————————————————-
Ariel Nomad Technical Specifications (2015)
| | | | |
| --- | --- | --- | --- |
| 0-60mph | 3.4 secs (approx) | Engine Capacity | 2354cc |
| Max Speed | 136 mph (depending on specification) | Cylinders/C |  4 – cylinders, Straight |
| Power | 235 bhp (at 7200rpm) | Layout | Mid-RWD |
| Torque | 221 lbft | Transmission | 6-speed (Man), LSD |
| Weight | 670kg | | |